ANTONIO AGUILAR
Biographie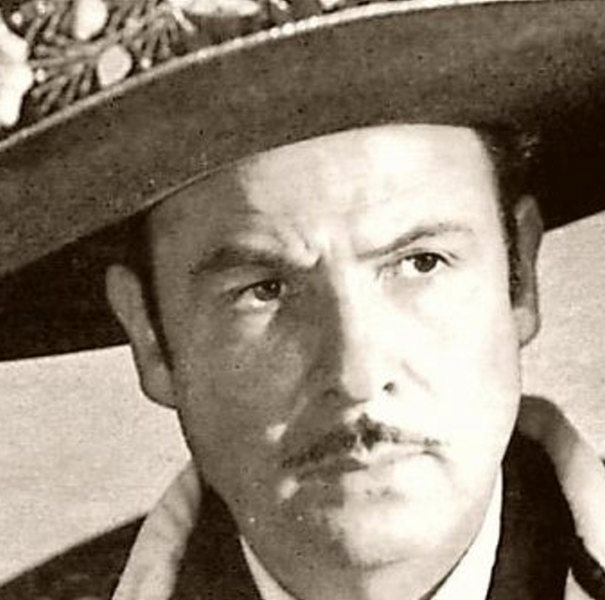 Antonio Aguilar (17 May 1919 – 19 June 2007)
Antonio Aguilar, José Pascual Antonio Aguilar-Barraza, most commonly known as Antonio Aguilar, nicknamed "El Charro de México", was a Mexican film actor, singer, producer and screenwriter. During his career, he made over 150 albums, which sold 25 million copies, and made 167 movies. Aguilar was best known in cinema for his participation in films concerning the Mexican Revolution, its heroes, and its folk songs or corridos. He won the Premio ACE for Best Actor for his eponymous role in Emiliano Zapata. Aguilar was also awarded with the Special Golden Ariel for his invaluable contribution and spreading of Mexican cinema.
He married actress-singer Flor Silvestre after meeting her during the filming of a motion picture. Their sons, Antonio Aguilar Jr. and Pepe Aguilar also entered into the film and music industry. Antonio Aguilar along with his family are known together as La Dinastía Aguilar, or "The Aguilar Dynasty".
Antonio Aguilar was born in the provincial town of Villanueva in the state of Zacatecas. His parents were Jesús Aguilar Aguilar, a native of Tayahua, and Ángela Barraza Valle, a Colombian of Ocaña. Aguilar's paternal grandparents were Tomás Aguilar and María Guadalupe Aguilar, and his maternal grandparents were Luis M. Barraza and Justa Valle.
He spent his early childhood in "La Casa Grande de Tayahua", an hacienda first built in 1596 in the town of Tayahua, about 35 km from Villanueva. Aguilar's ancestors acquired this property in the early 19th century.
Antonio Aguilar began his acting career in 1952 during the Golden Age of Mexican cinema. He is credited with popularising la charrería, considered to have originated in Mexico, to international audiences.
Antonio Aguilar was the first Mexican performer to mix rodeos and concerts while touring his show in Latin America and the United States. He made 167 movies and has been compared to American actors like Roy Rogers, Gene Autry, and Ronald Reagan.
In the 1950s, Aguilar was cast in a series of films centered on rural hero "Mauricio Rosales" in El rayo justiciero (1955), La barranca de muerte (1955), La sierra del terror (1956), La huella del chacal (1956), La pantera negra (1957), La guarida del buitre (1958), and Los muertos no hablan (1958). A total of seven low-budget ranchera films produced by Rosas Films S.A.
Antonio Aguilar gained cinematic notice when cast in Ismael Rodríguez's Tierra de hombres in 1956. Other collaborations with Rodríguez include La Cucaracha (1959) and Ánimas Trujano (1962), where he received starring roles. Amongst his best ranchera films are Yo… el aventurero (1959), Caballo prieto azabache (1968) El ojo de vidrio (1969), and Valente Quintero (1973). Aguilar appeared in American western films like 1969's The Undefeated starring John Wayne. He also made a memorable starring role alongside Flor Silvestre in Triste recuerdo (1991).
Antonio Aguilar began his recording career in 1950, eventually making over 150 albums and selling more than 25 million records. He was known for his corridos with some of his best known songs, including "Gabino Barrera", "Caballo Prieto Azabache", "Albur de Amor", and "Un Puño De Tierra". Antonio was also largely responsible for the renewed popularity of the tambora music in the mid 1980s, when he single-handedly resuscitated the genre with the hit "Triste Recuerdo". To this day he has been the only Hispanic artist to sell out the Madison Square Garden of New York City for six consecutive nights on 1997.
Ángela and Jesús, Antonio's parents, had six other children: José Roque, Salvador (dec.), Guadalupe (dec.), Luis Tomás (dec.), Mariano (dec.) and Josefina. Aguilar was married to actress Flor Silvestre (born Guillermina Jiménez Chagoya), and one of their children, José "Pepe" Aguilar, is among Mexico's most popular modern singers. In addition to Pepe Aguilar, he had another child with Flor Silvestre who is the eldest, Antonio Aguilar, Jr. Aguilar's grandchildren include Emiliano, Aneliz, Leonardo, and Ángela are Pepe Aguilar's children. María José and Flor Susana are Antonio Aguilar Jr's. children.
On June 18, 2007, Doctors announced that Antonio was no longer responding to treatment and was expected to pass away before the end of the night. On June 19, 2007, the doctor spoke out to the media that Aguilar was still alive, and his body was responding to the medication but was still in critical condition. While there, the family received visits from many famous people including Vicente Fernández.
Aguilar died on June 19, 2007 at 11:45 p.m. from pneumonia. His coffin was carried through the streets of Zacatecas, the state capital, and was honored at a memorial service attended by hundreds at a church there.
His body was then taken to the hamlet of Tayahua, about 100 kilometers (62 mi) to the south, where residents waited in the streets to bid Aguilar a final farewell before he was buried at his family's "El Soyate" ranch nearby, the government news agency Notimex reported.