ANITA BRYANT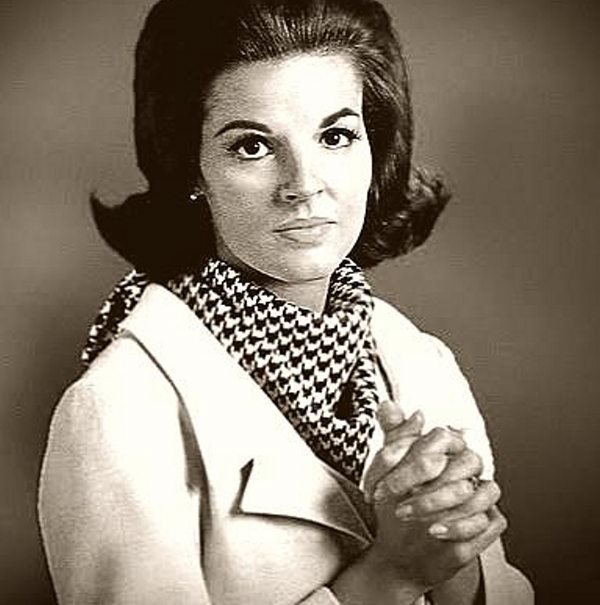 Biography
Anita Bryant (March 25, 1940, USA)
Anita Bryant, Anita Jane Bryant, is an American singer, former Miss Oklahoma beauty pageant winner, and outspoken critic of homosexuality. She scored four Top 40 hits in the United States in the late 1950s and early 1960s, including "Paper Roses," which reached #5. She later became known for her strong opposition to homosexuality and for her campaigning in 1977 to repeal a local ordinance in Dade County, Florida, that prohibited discrimination on the basis of sexual orientation, an involvement that significantly damaged her popularity and career in show business.
Anita Bryant  was  born  in  Barnsdall, Oklahoma. After her parents divorced, her father went into the U.S. Army and her mother went to work, taking her children to live with their grandparents temporarily. When Bryant was two years old, her grandfather taught her to sing "Jesus Loves Me". She was singing at the age of six onstage on local fairgrounds in Oklahoma. She sang occasionally on radio and television, and was invited to audition when Arthur Godfrey's talent show came to town.
Anita Bryant became Miss Oklahoma in 1958 and was a second runner-up in the 1959 Miss America beauty pageant at age 19, right after graduating from Tulsa's Will Rogers High School.
In 1960, she married Bob Green (1931–2012), a Miami disc jockey, with whom she eventually raised four children: Robert Jr. (Bobby), Gloria, Billy, and Barbara. She divorced him in 1980, drawing criticism of hypocrisy from the Christian right regarding the indissolubility of Christian marriage which Bryant had championed and "the deterioration of the family" against which she had preached. She appeared early in her career on the NBC interview program Here's Hollywood and on the same network's The Ford Show, Starring Tennessee Ernie Ford.
Anita Bryant placed a total of 11 songs on the U.S. Hot 100, although most were at the bottom reaches of the chart. She had a moderate pop hit with "Till There Was You" (1959, US #30). She also saw three hits in "Paper Roses" (1960, US #5, and covered by Marie Osmond 13 years later); "In My Little Corner of the World" (1960, US #10); and "Wonderland by Night" (1961, US #18).
Anita Bryant released several albums on the Carlton and Columbia labels. The 1959 Carlton LP Anita Bryant contained "Till There Was You" (from The Music Man). The 1963 Columbia Greatest Hits LP contained both Carlton and Columbia songs, including "Paper Roses" and "Step by Step, Little by Little". In 1964 she released The World of Lonely People, containing, in addition to the title song, "Welcome, Welcome Home" and a new rendition of "Little Things Mean a Lot", arranged by Frank Hunter.
In 1969 she became a spokeswoman for the Florida Citrus Commission, and nationally televised commercials featured her singing "Come to the Florida Sunshine Tree" and stating the commercials' tagline: "Breakfast without orange juice is like a day without sunshine." (Later, the slogan became, "It isn't just for breakfast any more!") All the commercials are now preserved and their copyright held by the Lynn and Louis Wolfson II Florida Moving Image Archives in Miami. In addition, during this time, she also appeared in advertisements for Coca-Cola, Kraft Foods, Holiday Inn and Tupperware.
She sang "The Battle Hymn of the Republic" during the graveside services for Lyndon B. Johnson in 1973, and performed the National Anthem at Super Bowl III in 1969.
She hosted a two-hour television special, The Anita Bryant Spectacular, in March 1980. She recounted her autobiography, appeared in medleys of prerecorded songs, and interviewed Pat Boone. The West Point Glee Club and General William Westmoreland participated. In the New York Times, John J. O'Connor commented: "For all of her careful projections of wholesomeness and benevolence, Miss Bryant delivers a message that is persistently hostile and aggressive."
On March 23, 1969, Bryant participated in a Rally for Decency at the Orange Bowl to protest the onstage behavior, much disputed, of Jim Morrison of The Doors.
In 1977, Dade County, Florida, passed an ordinance sponsored by Bryant's former friend Ruth Shack, that prohibited discrimination on the basis of sexual orientation. Anita Bryant led a highly publicized campaign to repeal the ordinance as the leader of a coalition named Save Our Children. The campaign was based on conservative Christian beliefs regarding the sinfulness of homosexuality and the perceived threat of homosexual recruitment of children and child molestation. Bryant stated:
What these people really want, hidden behind obscure legal phrases, is the legal right to propose to our children that theirs is an acceptable alternate way of life. […] I will lead such a crusade to stop it as this country has not seen before.
The campaign began an organized opposition to gay rights that spread across the nation. Jerry Falwell went to Miami to help her. Bryant made the following statements during the campaign: "As a mother, I know that homosexuals cannot biologically reproduce children; therefore, they must recruit our children" and "If gays are granted rights, next we'll have to give rights to prostitutes and to people who sleep with St. Bernards and to nail biters." She also added that "All America and all the world will hear what the people have said, and with God's continued help we will prevail in our fight to repeal similar laws throughout the nation."
On June 7, 1977, Bryant's campaign led to a repeal of the anti-discrimination ordinance by a margin of 69 to 31 percent. However, the success of Bryant's campaign galvanized her opponents and the gay community retaliated against her by organizing a boycott of orange juice. Gay bars all over North America took screwdrivers off their drink menus and replaced them with the "Anita Bryant", which was made with vodka and apple juice. Sales and proceeds went to gay civil rights activists to help fund their fight against Bryant and her campaign.
In 1977, Florida legislators approved a measure prohibiting gay adoption. The ban was overturned more than 30 years later when, on November 25, 2008, Miami-Dade Circuit Court Judge Cindy S. Lederman declared it unconstitutional.
Anita Bryant led several more campaigns around the country to repeal local anti-discrimination ordinances including St. Paul, Minnesota; Wichita, Kansas; and Eugene, Oregon. Her success led to an effort to pass the Briggs Initiative in California, which would have made pro- or neutral statements regarding homosexual people or homosexuality by any public school employee cause for dismissal. Grass-roots liberal organizations, chiefly in Los Angeles and the San Francisco Bay Area, sprang up to defeat the initiative. Days before the election, the California Democratic Party opposed the proposed legislation. Former Governor and future President Ronald Reagan voiced opposition to the initiative, and it ultimately suffered a massive defeat at the polls.
In 1998, Dade County repudiated Bryant's successful campaign of 20 years earlier, and re-authorized an anti-discrimination ordinance protecting individuals from discrimination on the basis of sexual orientation by a seven-to-six vote. In 2002, a ballot initiative to repeal the 1998 law, called Amendment 14, was voted down by 56 percent of the voters. The Florida statute forbidding gay adoption was upheld in 2004 by a federal appellate court against a constitutional challenge, but was overturned by a Miami-Dade Circuit Court in November 2008.
Bob Green and Anita Bryant at a press conference in Des Moines, Iowa, where she was famously "pied" on camera by a gay-rights activist.
Bryant became one of the first persons to be publicly "pied" as a political act (in her case, on television), in Des Moines, in 1977. Bryant quipped "At least it's a fruit pie", making a pun on the derogatory term of "fruit" for a gay man. While covered in pie, she began to pray to God to forgive the activist "for his deviant lifestyle" before bursting into tears as the cameras kept rolling. Bryant's husband, after promising not to retaliate, later took another pie and threw it at the protesters who had pied his wife.
By this time, gay activists had ensured the boycott on Florida orange juice had become more prominent and it was supported by many celebrities, including Barbra Streisand, Bette Midler, Paul Williams, John Waters, Carroll O'Connor, Mary Tyler Moore, Linda Lavin, and Jane Fonda. In 1978, Bryant and Bob Green told the story of their campaign in the book, At Any Cost. Even many years after her campaign, the gay community continued to regard her name as synonymous with bigotry and homophobia.
The fallout from her political activism hurt her business and entertainment career. Her contract with the Florida Citrus Commission was allowed to lapse in 1979 because of the controversy and the negative publicity generated by her political campaigns and the resulting boycott of Florida orange juice.
Her marriage to Bob Green also failed at that time, and in 1980 she divorced him, citing emotional abuse and latent suicidal thoughts. Green refused to accept this, saying that his fundamentalist religious beliefs did not recognize civil divorce and that she was "still" his wife "in God's eyes." In 2007, Green stated: "Blame gay people? I do. Their stated goal was to put her out of business and destroy her career. And that's what they did. It's unfair."
Some fundamentalist audiences and venues shunned her after her divorce. As she was no longer invited to appear at their events, she lost another major source of income. With three of her four children, she moved from Miami to Selma, Alabama, and later to Atlanta, Georgia. In a 1980 Ladies Home Journal article she said, "The church needs to wake up and find some way to cope with divorce and women's problems." She also expressed some sympathy for feminist aspirations, given her own experiences of emotional abuse within her previous marriage.
Bryant appeared in Michael Moore's 1989 documentary film Roger & Me, in which she is interviewed and travels to Flint, Michigan, as part of the effort to revitalize the devastated local economy.
She married her second husband, Charlie Hobson Dry, in 1990. The couple tried to reestablish her music career in a series of small venues, including Branson, Missouri, and Pigeon Forge, Tennessee where they opened "Anita Bryant's Music Mansion". The establishment combined Bryant's performances of her successful songs from early in her career with a "lengthy segment in which she preached her Christian beliefs." The venture was not successful and the Music Mansion, which had missed meeting payrolls at times, filed for bankruptcy in 2001 with Bryant and Dry leaving behind a series of unpaid employees and creditors.
Anita Bryant also spent part of the 1990s in the country music mecca of Branson, Missouri, where the state and federal governments filed liens claiming more than $116,000 in unpaid taxes. Bryant and Dry had also filed for Chapter 11 bankruptcy in Arkansas in 1997 after piling up bills from a failed Anita Bryant show in Eureka Springs, a tourist area in northwest Arkansas. Among the debts were more than $172,000 in unpaid state and federal taxes.
In 2005, Bryant returned to Barnsdall, Oklahoma, for the town's 100th anniversary celebration and to have a street renamed in her honor. She returned to her high school in Tulsa on April 21, 2007, to perform in the school's annual musical revue. She now lives in Edmond, Oklahoma, and says she does charity work for various youth organizations while heading Anita Bryant Ministries International.
In a 1980 Ladies Home Journal interview, following her divorce and in the aftermath of her anti-gay activism, Bryant commented on her anti-gay views and said, "I'm more inclined to say live and let live, just don't flaunt it or try to legalize it." However, the biography page on her Anita Bryant Ministries website (written in 2006) continues to defend her earlier anti-gay activism and views.