ANDY WILLIAMS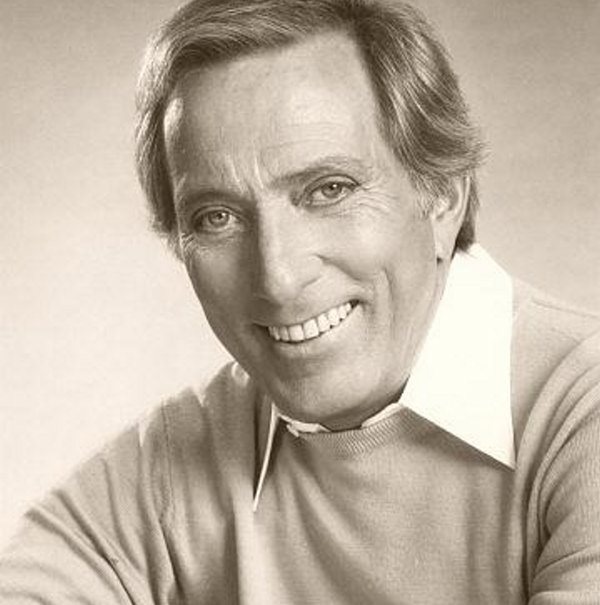 Biography
Andy Williams, Howard Andrew "Andy" Williams (December 3, 1927, USA – September 25, 2012, USA)
Andy Williams was an American popular-music singer
The extraordinary, easy-listening crooning talents of Andy Williams were first unveiled when he was 8 years old and inducted into the Williams Brothers Quartet as its youngest member.
Born in Wall Lake, Iowa on December 3, 1927, Andy started singing with his three older brothers (Bob Williams, Dick Williams and Don Williams) in his hometown's Presbyterian church choir. The quartet became instant local news and made its professional singing debut when Andy was in the third grade. A bonafide hit, they went on to become a staple on radio in nearby big city Des Moines. From there, the harmonizing siblings found widespread popularity on wartime radio, including Chicago and Cincinnati. Andy graduated from high school in Cincinatti.
They eventually caught the attention of crooning king Bing Crosby, who included the boys on his mammoth 1944 hit single "Swinging on a Star". Bing, of course, was keen on the boys' combined talents, having his own singing quartet of sons at home. Speciality film appearances in musicals were also a rage and the boys appeared in such film fare as Janie (1944), Kansas City Kitty (1944), El diablillo ya es mujer (1947) and Ladies' Man (1947). They then joined singer/personality Kay Thompson in 1947 with her eclectic nightclub act and stayed with the popular show until they disbanded in 1951. Andy was the only Williams brother who ventured out to the East Coast to seek a solo singing career.His career received a major boost when he was offered regular singing duties on Steve Allen's "Tonight!" (1953) show, which led to Andy's first recording contract with Cadence Records in 1956 and his first album. A "Top 10" hit came with the lovely ballad "Canadian Sunset". This, in turn, was followed by "Butterfly" (#1), "Lonely Street", "I Like Your Kind of Love", "Are You Sincere" and "The Hawaiian Wedding Song", the last tune earning him five Grammy Award nominations. An ingratiating presence on television, he was handed a musical show co-hosting with June Valli and a summer replacement series of his own. In the meantime, he developed into a top nightclub favorite.In 1962, Andy made a lucrative label change to Columbia Records, which produced the "Top 10" pop hit "Can't Get Use to Losing You" and a collaboration with Henry Mancini, which inspired Andy's signature song, "Moon River," the Oscar-winning tune from the popular Audrey Hepburn film Desayuno con diamantes (1961). Andy had the honor of singing the song during the Oscar ceremony. Other major chartbusters for Andy came with the movie theme songs Días de vino y rosas (1962), Querido corazón (1964) and Love Story (1970).An attempt to parlay his singing fame into a film career was one of Andy's few missteps in a hugely successful career. He co-starred in the light, screwy Ross Hunter comedy soufflé Rica, guapa y casadera (1964) starring Sandra Dee and enjoyably squared off with fellow singing suitor Robert Goulet. Andy and Robert also sang in the picture (including sharing the title song), which was a tepid remake of Casi un ángel (1941) starring Deanna Durbin. It was an artificial role to be sure and is only significant in that it was Andy's sole legit acting experience on film.
What truly put Andy over the top was the phenomenal success of his weekly variety show "The Andy Williams Show" (1962). Andy was a natural in front of the television camera and his dueting with such singing legends as Ella Fitzgerald, Judy Garland and Peggy Lee kept audiences enthralled week after week. What goes around comes around for Andy would often invite his brothers to sing with him and also introduced another talented harmonizing boy group–the seven "Osmond Brothers". The series, which concluded in 1971, won three Emmy Awards for "Best Musical/Variety Series". Andy himself picked up a couple of nominations as performer.
In 1961, Andy married a stunning, whispery-voiced French chanteuse named Claudine Longet (born in Paris in 1942), who was 15 years younger. The couple had three children. She made a mild hit of the song "Love Is Blue" and enjoyed slight celebrity status. Like the Crosby family, Andy's clan became an integral part of his annual classic Christmas television specials. Despite the fact that the couple separated in 1969, Claudine continued to appear in these specials in the early 1970s.
In tandem with his famous television show, Andy opened Caesar's Palace in 1966 and went on to headline there for 20 years. Following the demise of his television success, Andy continued to tour both here and abroad. He laid low for a time to protect his children through a tragic crisis when his ex-wife Claudine (since 1975) became enmeshed in a tabloid-styled shooting in March of 1976. The 1970s also deemed the cardigan-wearing Andy as too square and clean-cut to prod younger audiences. Nevertheless, he hosted the Grammy Awards a few times and returned to a syndicated series format in 1976, which was short-lived. Andy remarried happily in 1991 to non-professional Debbie Haas.
Inspired by singer/friend Ray Stevens, Andy had built a $12 million state-of-the-art theater, which opened in 1992 and was christened the Andy Williams Moon River Theater. Andy became the first non-country star to perform there and other theme shows have since been inspired to populate the small town–now considered the live music capital of the world. At age 70+, he continued to perform in Branson, Missouri, where he and his wife reside, and in Europe. Andy Williams died at age 84 of bladder cancer in Branson, Missouri on September 25, 2012
Fuente: http://www.imdb.com