ANDY RUSSELL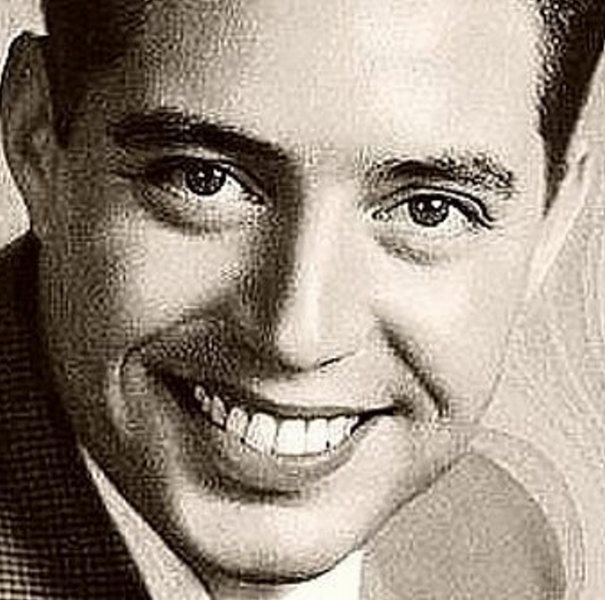 Biography
Andy Russell (September 16, 1919, USA – April 16, 1992, USA)
Andy Russell was an American popular vocalist, specializing in traditional pop and Latin music.
He was born Andrés Rabago Pérez in the Boyle Heights area of East Los Angeles. He was one of ten children (eight boys, two girls) born to parents who were Mexican immigrants of Spanish descent. Already as a teenager he had begun to perform as a vocalist and drummer with a local band headed by Don Ramon Cruz.
In the early forties he Anglicized his name (Andy was obvious, but "Russell" was after the singer Russ Columbo). He became vocalist and drummer with the bands of Johnny Richards, Gus Arnheim, Sonny Dunham, and Alvino Rey. By 1944, he had become well enough regarded a pop vocalist to be featured on radio, and in the next year had his Old Gold Show. He also signed on with Capitol Records.
In 1946, the people running the pop music radio program Your Hit Parade asked him to take the place of Frank Sinatra (Sinatra returned in 1947). This led to increased popularity for the singer.
Andy Russell appeared in the new medium of television in the early 1950s on Your Show of Shows with Sid Caesar on NBC, but continued to record, though less frequently. By 1952, Russell's hits had stopped coming, so Capitol Records lost interest in him as a hit-making pop star. Especially, as the rock 'n roll age was beginning to dawn, Capitol (like the other major labels) began to look on with negative feeling. Russell realized at this point in time that he was still quite popular in Mexico, so he began to spend time there performing for his fans. He occasionally recorded for RCA Victor Records in the mid-1950s.
In the late-1950s, Russell moved to Mexico City, and later to Argentina. In the latter country, he had a successful television variety show that ran for seven years. El Show de IKA was sponsored by the nation's largest automaker, Industrias Kaiser Argentina (IKA). A Jeep was driven on the stage during every performance with dancers as well as a 50-piece orchestra and choir accompanying Russell. It was the most expensive TV show produced in that country and the first to use cameras mounted high above the stage.
In the mid-1960s, he moved back to the United States for a time and went back to Capitol, making a few LP albums. He also made some LPs for the Argentine market that were well received. Though he continued to appear and perform, by the mid-eighties he was generally forgotten. Exceptions to this rule were his 1967 Capitol singles "It's Such a Pretty World Today" and "I'm Still Not Through Missing You", which achieved top ten status on Billboard's Easy Listening chart.
He died in Sun City, Arizona. He was buried in the Loma Vista Memorial Park in Fullerton, California.