ANDY GRIFFITH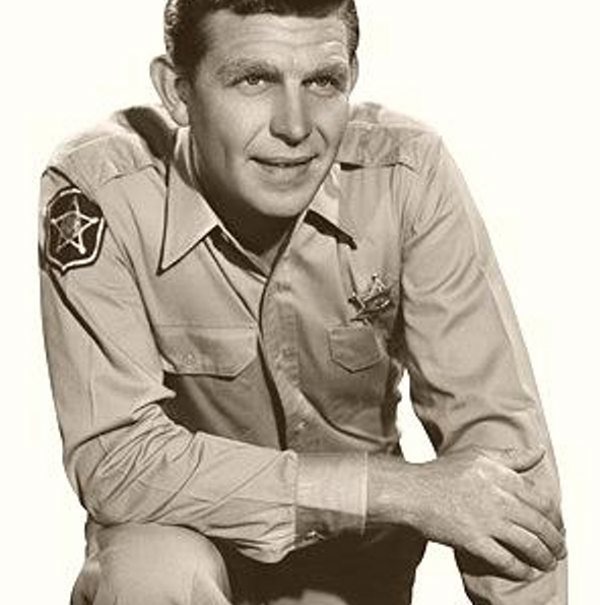 Biography
Andy Griffith, Andrew Samuel Griffith, 86, was born June 1, 1926 in Mount Airy, the only child of Carl and Geneva Griffith. The family lived with relatives until Andy was 3, when his father purchased a modest house in Mount Airy.
The young boy grew up listening to gospel music, and then in high school he found out he could make people laugh. He participated in the school drama program and learned to sing and play the trombone in church.
After high school, Andy was offered a role in Paul Green's The Lost Colony, being performed on Roanoke Island, and was a cast member for several years.
My public speaking professor at Lenoir-Rhyne College, George Spence, had worked with Andy in The Lost Colony and attended UNC at Chapel Hill with him. In 1958, Professor Spence was convinced that his friend Andy Griffith was going to be a star in film and the theatre. Andy had already made it to television in 1955 in a one-act play, "No Time for Sergeants"; and in October, the play had made it to Broadway in New York City. Then in 1957, Andy starred in the film, "A Face in the Crowd" with Patricia Neal, Walter Matthau, and Lee Remick. Professor Spence did not let us forget his friend and classmate, Andy Griffith.
I was already a fan of Andy's from his record in 1953, "What it Was, Was Football." He pretended to be an "old country boy" trying to figure out what was going on in the first football game he had ever seen. I could relate to that.
Then in 1960, The Andy Griffith Show began on CBS Television, and I was hooked. Sheriff Andy Taylor took care of all the crime and other happenings in Mayberry, along with his deputy, Barney Fife, played by Don Knotts. Knotts, Andy's best friend, had also starred in the Broadway production of "No Time for Sergeants." Ron Howard (director and producer in Hollywood today) was Andy's only TV child, Opie Taylor.
The Andy Griffith Show ran for eight years; and today, a viewer can usually find a re-run somewhere on TV on almost any day. It was a family-values show that appealed to all ages. I do not know of a TV series today that demonstrates family values the way this series did.
Interestingly, Andy never received a writing credit for the show, even though he worked on the development of every script. His friend, Don Knotts, won multiple Emmy Awards for his comedy role on the show, but Andy was never even nominated. Andy was always content playing his father role and "straight man" to all the comedic characters on the show.
In the 70s and early 80s, Andy Griffith appeared in a lot of TV series; but in 1986, he returned to TV as a title character as a country lawyer in "Matlock." He also wrote, produced and directed some of the episodes of "Matlock," which ran on TV until 1995.
Andy was not exempt from health problems. He was diagnosed with Guillain-Barre Syndrome in 1983 and was paralyzed from the knees down for 7 months. He underwent quadruple heart surgery in 2000 and hip surgery in 2007.
Andy Griffith did receive some honors during his life time. Statues of Andy and Opie can be seen in Raleigh and at the Andy Griffith Playhouse in Mount Airy. Andy also received a Grammy Award in 1997 for Best Southern, Country or Bluegrass Gospel Album for his "I Love to Tell the Story —Twenty-Five Timeless Hymns." In 1999, he was inducted into the Country Gospel Music Hall of Fame. Then in 2005, he was awarded the Presidential Medal of Freedom by President Bush; and in 2007, he was inducted into the Christian Music Hall of Fame.
On July 3, 2012, Griffith died from a heart attack at his home on Roanoke Island in Dare County, North Carolina. He was buried in the Griffith Family Cemetery on the island within five hours of his death.
Fuente: http://www2.hickoryrecord.com