ANDRÉ KOSTELANETZ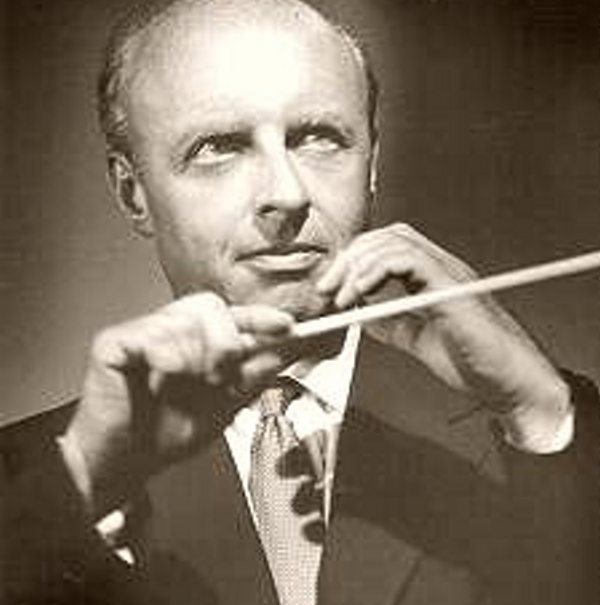 Biography
André Kostelanetz (22-Dic-1901 , 13-Jun-1980)
André Kostelanetz (Russian: Андрей Костеланец, December 22, 1901 – January 13, 1980) was a popular orchestral music conductor and arranger, one of the pioneers of easy listening music.
Born in Saint Petersburg, Russia, Kostelanetz escaped in 1922 after the Russian Revolution.[citation needed] He arrived in the United States that year, and in the 1920s, conducted concerts for radio. In the 1930s, he began his own weekly show on CBS, André Kostelanetz Presents.
André Kostelanetz was known for arranging and recording light classical music pieces for mass audiences, as well as orchestral versions of songs and Broadway show tunes. He made numerous recordings over the course of his career, which had sales of over 50 million and became staples of beautiful music radio stations. For many years, Kostelanetz also conducted the New York Philharmonic in pops concerts and recordings, in which they were billed as Andre Kostelanetz and His Orchestra.
André Kostelanetz may be best known to modern audiences for a series of easy listening instrumental albums on Columbia Records from the 1940s until 1980. Kostelanetz actually started making this music before there was a genre called "easy listening". He continued until after some of his contemporaries, including Mantovani, had stopped recording.
Outside the United States, one of his best known works was an orchestral arrangement of the tune "With a Song in my Heart", which was the signature tune of a long-running BBC radio program, at first called Forces Favourites, then Family Favourites, and finally Two Way Family Favourites.
He commissioned many works, including Aaron Copland's Lincoln Portrait, Jerome Kern's Portrait of Mark Twain, William Schuman's New England Triptych, Paul Creston's Frontiers, Ferde Grofé's Hudson River Suite, Virgil Thomson's musical portraits of Fiorello La Guardia and Dorothy Thompson, Alan Hovhaness's Floating World, and Ezra Laderman's Magic Prison. William Walton dedicated his Capriccio burlesco to Kostelanetz, who conducted the first performance and made the first recording, both with the New York Philharmonic.
Toward the end of his recording career, his name was more of a brand than a true representation of who actually made the music, because nearly all of his output in the 1970s was arranged by others.[citation needed] Some of the arrangers credited on 1970s Kostelanetz albums include Teo Macero, Torrie Zito, Hank Levy, Luther Henderson, Jack Cortner, Eddie Sauter, Claus Ogerman, Jack Pleis, Tommy Newsom, Harold Wheeler, Bobby Scott, LaMont Johnson, Wade Marcus, Patrick Williams, Sammy Nestico, Warren Vincent, Dick Hyman, Jorge Calandrelli and Don Sebesky.
Kostelanetz's last concert was A Night in Old Vienna with the San Francisco Symphony Orchestra at that city's War Memorial Opera House on December 31, 1979.
He was the first husband of actress/singer Sarah Loy; they were married from 1923 to 1937 when the marriage was dissolved.He was the second husband of the soprano Lily Pons; they were married from 1938 to 1958, when the marriage was dissolved