AL CAIOLA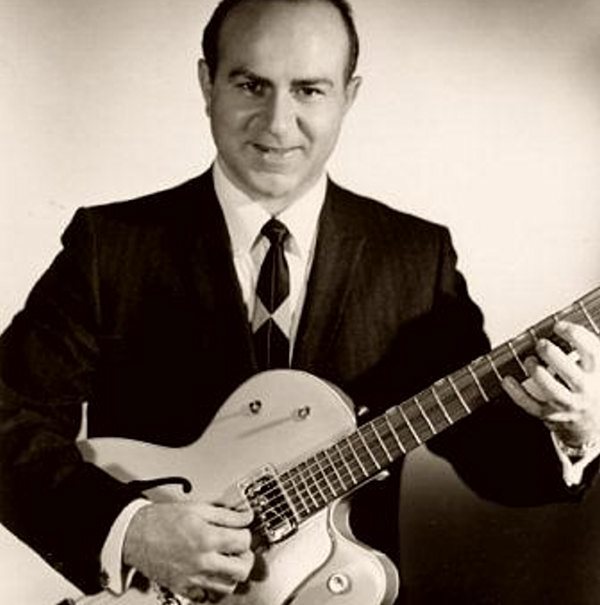 Biography
Al Caiola (September 7, 1920, Jersey City, New Jersey, USA)
Al Caiola, born Alexander Emil Caiola, is a guitarist who plays jazz, country, rock, western, and pop music. He has been both a studio musician and stage performer. He has recorded over fifty albums and has worked with some of the biggest stars of the 20th century, including Elvis Presley, Frank Sinatra, Percy Faith, Buddy Holly, Mitch Miller, and Tony Bennett. During World War II Caiola played with the United States Marine Corps 5th Marine Division (United States) Band that also included Bob Crosby. Caiola served in the Battle of Iwo Jima as a stretcher bearer.
Al Caiola was an active studio musician in the 1950s centered in the New York City area. He released some minor records under his own name in that decade. In addition, he performed under the musical direction of John Serry, Sr. on an album for Dot Records in 1956 (Squeeze Play). In 1960 he became a recording star on the United Artists (UA) label for at least ten years.
He had prominent pop hits in 1961 with "The Magnificent Seven" and "Bonanza". The style was inspired by Duane Eddy's twangy bass guitar sound. The arrangements were typically by Don Costa using a large orchestral backing. Al Caiola continuously released singles and albums throughout the 1960s and beyond, though no others appeared on the charts except for an entry in 1964 with "From Russia with Love". UA used him to make commercial recordings of many movie and television themes. A popular and sought-after album is 1961's Hit Instrumentals From Western TV Themes, which included "Wagon Train (Wagons Ho)", "Paladin", "The Rebel" and "Gunslinger". It has been reissued in other forms since then. Solid Gold Guitar, probably his most impressive album, contained exciting big arrangements of "Jezebel", "Two Guitars", "Big Guitar", "I Walk the Line" and "Guitar Boogie".
The Magnificent Seven album, other than the title track, consisted of a variety of pop songs with a jazzy bent. Guitars Guitars Guitars was similar. There was a wide variety to his albums — soft pop, Italian, Hawaiian, country, jazz. In the early 1970s he continued on the Avalanche Records label, producing similar work including the album Theme From the 'Magnificent 7 Ride' '73. Later, on other labels, came some ethnic-themed instrumental albums such as In a Spanish Mood in 1982, and Italian instrumentals. In 1976, Al Ciaola accompanied Sergio Franchi, Dana Valery, and Wayne J. Kirby (Franchi's musical director) on a concert tour to Johannesburg, South Africa.
Al Caiola tours on a regular basis with Steve Lawrence.