STANLEY BLACK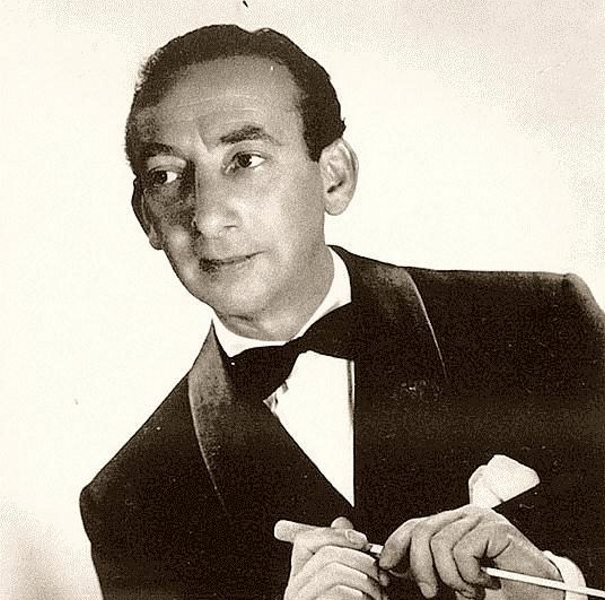 Biography
Stanley Black
OBE (14 June 1913 – 27 November 2002) was an English bandleader, composer, conductor, arranger and pianist. He wrote and arranged many film scores and recorded prolifically for the Decca label (including London and Phase 4). Beginning with jazz collaborations with American musicians such as Coleman Hawkins and Benny Carter during the 1930s, he moved into arranging and recording in the Latin American style and also won awards for his classical conducting.
Stanley Black
(Solomon Schwartz) was born in 1913 in Whitechapel, England. His parents were Polish and Romanian Jews. He began piano lessons at the age of seven. He was aged only 12 when his first composition was broadcast on BBC Radio and continued his early success by winning a Melody Maker arranging competition aged 15.
In the early 1930s he was employed as a jazz player and composer and had worked with Howard Jacobs, Joe Orlando, Lew Stone, Maurice Winnick and Teddy Joyce by the time he joined Harry Roy in 1936. He had also broadcast and recorded with several American musicians, including jazz saxophonist Coleman Hawkins, who had first heard Black on late night radio shows with Lew Stone's band. When the two eventually met in London, the reviewer Edgar Jackson suggested they record together, and a notable collaboration is a duet version of Honeysuckle Rose.
During World War II, Black joined the Royal Air Force, and became involved in managing the entertainment of servicemen based at Wolverhampton. In 1944 he was appointed conductor of the BBC Dance Orchestra, and remained in the job for almost nine years, broadcasting as many as six nights a week.
By this time he had also begun recording under his own name for Decca. Now well involved with the film industry, he went on to compose, arrange and direct music for about 200 more films, notably after being appointed music director at Elstree Studios in 1958. He was also principal conductor of the Associated British Picture Corporation Orchestra and musical director composer of that organisation from 1958-1963.
Stanley Black's radio work kept him in contact with a large listening audience through his incidental music for shows such as Much Binding in the Marsh and the first two series of The Goon Show. He later presented his own programmes on radio and television, including Black Magic and The Marvellous World of Stanley Black.
In the early 1950s he regularly topped the Melody Maker lists of the most-heard musicians on radio. He was chosen to be included on Decca's first release of long-playing records in the UK in June 1950. This enabled him to continue his conducting, arranging and performing and resulted in a large number of albums. He was particularly popular in America, as evidenced by his inclusion in the Billboard best-sellers lists.
He wrote the music for the 1951 film Laughter in Paradise.
During his life, he conducted many of Britain's major orchestras, and until the 1990s he was still directing regular broadcast sessions at the BBC studios, despite the onset of deafness in later life.
Stanley Black received numerous awards, including the OBE. He was made a life fellow of the Institute of Arts and Letters, and life president of the Celebrities Guild of Great Britain. He died in London in 2002, aged 89.