DANNY KAYE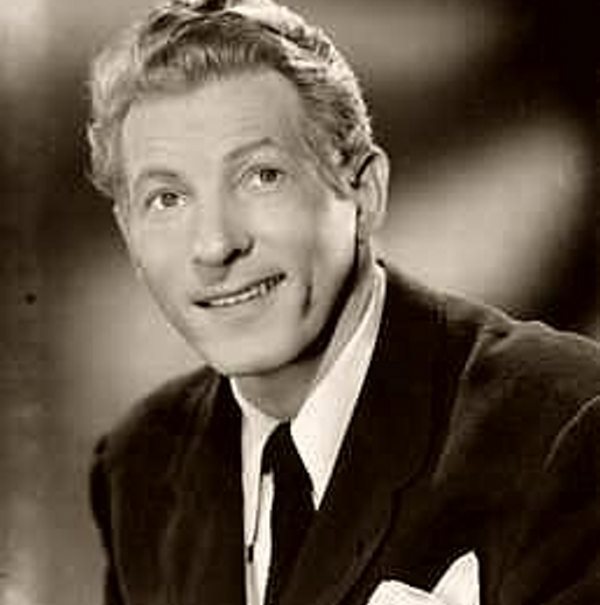 Biography
Danny Kaye, David Daniel Kaminsky
was born on January 18, 1913 in the Brownsville area of Brooklyn, NY.  He was the third and last son of an immigrant Ukrainian tailor, and the only one born in the United States.  After attending P.S. 149, then Thomas Jefferson High School, Danny dropped out at the age of 13 when he ran away to Florida. There he became a 'busker'; singing in the streets for money.  It was around this time that he changed his name to
Danny Kaye
and traveled to the Catskills, to an area known as the 'Borscht Belt', to work first for a radio station then by performing comedy at camps and summer hotels.  He quickly became a success and in 1933 joined the dance team of Dave Harvey and Kathleen Young.  In 1934 Danny traveled to the Orient, where he learned to sing, dance, mime, scat, and perform professionally.  Unfortunately, his debut in London was upstaged by Chamberlain's sellout performance in Munich.Back in the United States by 1938, Danny met his wife to be, Sylvia Fine, at Camp Tamiment in the Poconos – grounds consecrated to Jewish socialism.  Sylvia was a comedy writer whose styles suited Danny's talents, and during that summer wrote "Anatole of Paris", "Stanivslasky", and "Pavlova", among others.  The two became a team, with Danny often performing works that Sylvia had written for him.
In 1939
Danny Kaye 
made his Broadway debut in "The Straw Hat Revue".  Later that same year he was cast in "Lady in the Dark" by Moss Hart, who had seen him performing at a nightclub called The Martinique.  Hart wrote Danny into the play with an 11 minute part of a temperamental photographer who's mastered the art of tongue twisters.  This was made evident by the now famous song "Tchaikovsky", in which Danny sings the names of 54 Russian composers in 38 seconds.  His part debuted on January 21, 1941 in the Alvin theater, and it brought the second act to a standstill.  For this he received a $500 weekly salary and a billing on the marquee.  Danny then won the lead role in "Let's Face It", a show about army life with a score written by Cole Porter, Herbert and Dorothy Fields, and Sylvia Fine.  Through the early 40's Danny continued to entertain in night club acts, on Broadway, and to support the troops overseas during WWII, until Samuel Goldwyn signed him in 1943.
It is rumored that Samuel Goldwyn wanted Danny to alter his looks with rhinoplasty (a nose job), perhaps in an effort to create an 'all american boy' look.  When Danny refused, Goldwyn demanded that Danny bleach his hair to blond, which he did for a short while.  Despite his un-altered nose, Danny's career took off at an extraordinary rate, starting with "Up In Arms" in 1944.  Many more soon followed, some written especially to suit Danny's talents, including "Wonder Man"(1945), "The Kid From Brooklyn"(1946), "The Inspector General"(1949), and "White Christmas"(1954).  Perhaps one of the most well known lines comes from the movie "The Court Jester"(1956) where Danny, as a newly knighted court jester having been challenged to duel, is forced to remember that "the pellet with the poison's in the vessel with the pestle; the chalice from the palace has the brew that is true."  It was also during this time that Danny and Sylvia's only child was born; Dena Kaye, in December 1946.
In 1948 he took him one man show overseas to London's Palladium, where his instant success was described by Life magazine as "worshipful hysteria."  The Royal Family not only went to see him, but for the first time in history left the royal box and sat in the first row of the orchestra.
Danny's association with the United Nations Children's Fund (UNICEF) began in 1954.  A strong advocate for social responsibility, he logged thousands of hours as a pilot – a hobby he enjoyed immensely –  on trips for UNICEF.  He was so dedicated to the cause that he once flew to 65 cities in 5 days.  The United Nations Secretary General Javier Perez de Cueller said at the October 27, 1987 tribute to Danny, he was the man who first "heightened global awareness of the plight of unfortunate children throughout the world."  Danny was so identified with UNICEF that in 1965, when they received the Nobel Prize, Danny was selected to accept it.  At a ceremony in Washington D.C., Danny was presented with his own award, by B'nai B'rith, for his work with UNICEF.  True to his nature, at the end of his standing ovation he asked the audience to remain standing, then to sing Happy Birthday to no one in particular.  At the end of the song he asked everyone why they were "standing up like fools" then made faces at the photographers for 20 seconds "so they would go away."The sixties saw a decline in Kaye's film popularity, yet from 1963-1967 he starred in his own musical variety show entitled "The Danny Kaye Show" which won an Emmy in it's first season.
Danny Kaye returned to Broadway in 1970, starring in "Two by Two" where he fell during a performance and hurt his hip.  Despite the injury, he appeared for 10 months in the show using either crutches or a cane.
Another aspect of Danny's career involved conduction major symphony orchestras.  He took up the baton at the invitation of Eugene Ormandy, and although he claimed he could not read a note of music, over time he raised millions of dollars for charity.  Danny couldn't resist bringing comedy to the symphony, though, and had been known to conduct "Flight of the Bumblebee" with a flyswatter and lie on the podium on his back and keep time by kicking his feet in the air.  Despite this, his conducting was well praised, with Zubin Mehta stating that Danny "has a very efficient conducting style."  "Live from Lincoln Center: An Evening with Danny Kaye and the New York Philharmonic," broadcast on PBS, was partially responsible for the Peabody Award Danny received in 1981.
Only in his last movie did Danny Kaye get the chance to prove the versatility of his talents.  In the 1981 television movie "Skokie" he earned rave reviews as a Nazi concentration camp survivor.
Danny Kaye died of a heart attack in Los Angeles, California on March 3, 1987 at the age of 74.  He left behind him an unforgettable legacy of good will and humor that will be remembered for many years to come.  Comedian, singer, dancer, entertainer, master of mimicry, gourmet chef, pilot, symphony conductor, UNICEF ambassador, husband, father; Danny Kaye touched many people in all his various endeavors.  As a child David Daniel Kaminsky wanted to grow up and be a doctor; in his own way he did.  Laughter, after all, is the best medicine.