BILL HALEY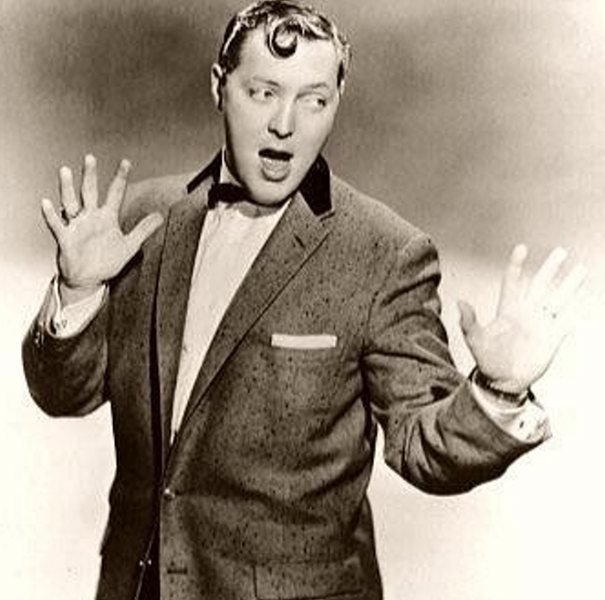 Biography
Bill Haley was born on July 6, 1925, in the Highland Park section of Detroit. His father, a mechanic, was born in Firebrick, Kentucky. His mother, Maude, a piano teacher, was English.
William Sr. suffered from a severe speech impediment and seldom spoke. His language was music. He played the guitar, banjo and mandolin. Listening to his father play, and heavily influenced by Gene Autry's musical westerns at Saturday afternoon matinees, young Bill Haley was determined to be a singing cowboy. When his parents presented him with his first guitar on his 13th birthday, he was certain that he wanted to become another Roy Rogers.
Young Billy became proficient on the guitar, but when he voiced his ambitions to his parents they had reservations. Billy, however, was undaunted. At 15 he quit school and went east, finding a job in a bottled water plant. He began dressing like a fancy cowboy in his off hours, sitting in the back seat of his car, strumming his guitar and, according to reliable witnesses, attracting girls by the bushel. In spite of his popularity, however, Billy had more than his share of grief from detractors who would call him a phony drugstore cowboy and hurl tomatoes at him. Understandably, he partook of his share of fights.
Between altercations, Bill Haley still harbored his dream of becoming a professional singer, so he joined a group called the Down Homers. He went on the road with great fanfare, but a few months later he was back home, disillusioned with show business, broke and deathly ill. He begged his mother not to tell anyone he had returned — at least, not see him in the shape that he was in. It took two weeks for his mother to nurse him back to a presentable condition.
Temporarily out of commission as a cowboy crooner, Bill decided that it was time to try another, more stable profession. He chose radio. In 1947, he was made musical director at station WPWA. But the voice of the muse continued to sing loudly in his ear.
Two more western swing groups later Bill Haley, in 1952, wrote a new type of song called "Rock A Beatin' Boogie". A few months later, the song was recorded by a black group, the Treniers. There came more songs from Haley's pen. Some were recorded by Haley's own group, Bill Haley and His Saddlemen. Some were recorded by other groups. Then one day. someone mentioned that with a name like Haley, Bill should change the name of his group to The Comets — an obvious allusion to the heavenly body that made a spectacular appearance every 76 years. However, Haley didn't have to wait that long to make his appearance.
In 1954, Bill Haley and His Comets signed a recording contract with Decca Records. The group had already been performing "Rock Around The Clock" for over a year, but now a new arrangement of the song was in order. It was too tame. The group added stacatto riffs and guitar solos. Haley thought it sounded great and appropriate for a song that had the word "rock" in it's title, a slang term that, used by itself, meant "wild party" or "riot".
On April 12, 1954, in a New York ballroom called the Pythian Temple, recording machines were switched on. The tape moved across the recording head. Bill Haley and His Comets stepped to the microphone. There came two stabbing rim shots on the drum, and rock and roll was born.
"One-two-three o'clock, four o'clock ROCK…."
When released, "Rock Around The Clock" only enjoyed average sales. Maybe it was an idea whose time had not yet come. Then something extraordinary happened. A year after "Rock Around The Clock" hit record stores, MGM used the recording for the title track of "The Blackboard Jungle", a film about juvenile delinquency. Teenagers finally had a song that reflected their own rebellious nature and sales skyrocketed. Rock and roll was in. Unfortunately, it's first practitioner was already on his way out.
As soon as teens got their first gander at him in concert or on television, he was doomed. Bill Haley with his funny-looking spit curl was already 30 years old (and looked it) as well as overweight — just another adult in the kid's eyes. Furthermore, he was also a victim of his own success. By the time he had recorded two more hits, "Shake, Rattle and Roll" and "See You Later, Alligator", he was rapidly losing ground to younger singers who had followed his lead and were now recording their own rock records. Bill Haley was ancient history.
After 1957, Haley enjoyed no more hit records. He spent the rest of his life touring and performing in rock and roll revivals and died in 1981 of a heart attack. Haley was 55 years old.