MARY KAYE
Biographie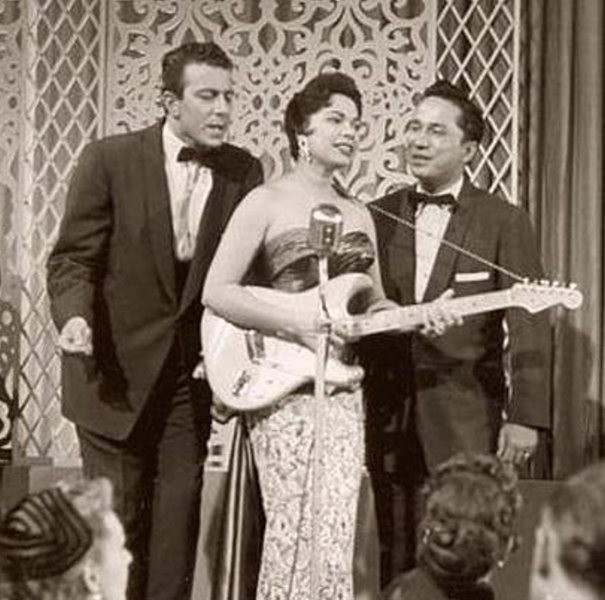 Mary Kaye (January 9, 1924 – February 17, 2007) , sometimes called the "First Lady of Rock and Roll", was a guitarist and performer who was active in the 1940s, 1950s and 1960s.
Mary Kaye (born Malia Ka'aihue) descended from Hawaiian royalty in the line of Queen Liliuokalani, Hawaii's last reigning monarch, and was born into a show business family. The Mary Kaye Trio is credited with founding the Las Vegas "lounge" phenomenon at the Last Frontier in 1953 : an all-night party atmosphere where stars and common folk rubbed elbows in a freewheeling environment. Mary Kaye died in a Las Vegas hospital of pulmonary disease on February 17, 2007.
Her son Jay Kaye was also a musician. At the age of 15, he put out his first LP, Suddenly One Summer in 1968. Now a cult psychedelic album, it received little notice or airplay upon its release. He later moved to Europe to play in casinos.
Mary Kaye was photographed with her equal partners Frank Ross & Norman Kaye of the Mary Kaye Trio, in a 1956 Fender promotional advertisement featuring a new Stratocaster electric guitar. This ash blonde guitar with maple neck and gold hardware later became popularly known as "The Mary Kaye Strat."
Only a few were produced in 1956, but the color has been re-introduced to the Fender line after the strong international demand for the Mary Kaye color scheme. A limited Custom Shop series Mary Kaye Tribute Strat was issued in 2005. In 2007 a 57 Reissue Mary Kaye Strat was released for the 50th anniversary of the Stratocaster. The Custom Shop release can be seen in the 2005 Fender Frontline Catalog along with her personal history as interviewed by Fender.