DAVE BARBOUR
Biographie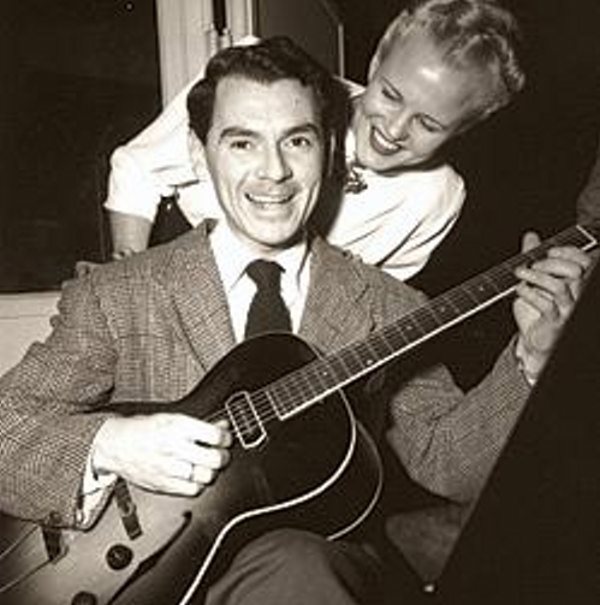 Dave Barbour (May 28, 1912 – December 11, 1965) was an American musician. He was a jazz banjoist and guitarist, a pop songwriter, an actor, and the husband of Peggy Lee for nine years.
Dave Barbour was born in Long Island, New York started off as a banjoist with Adrian Rollini in 1933 and then Wingy Manone in 1934. He switched to guitar in the middle of the decade and played with Red Norvo in 1935-1936. He found much work as a studio musician and played in ensembles with Artie Shaw (1939), Lennie Hayton, Charlie Barnet (1945), Raymond Scott, Glenn Miller, Lou Holden, and Woody Herman (1949). He also recorded with Andre Previn in 1945.
He played with Benny Goodman in 1942, and while a member of Goodman's ensemble, he fell in love with lead singer Peggy Lee, and the pair quit the group to marry in 1943. Soon after they moved to Los Angeles, Johnny Mercer put them to work as a songwriting team, and they wrote a number of Lee's hits, such as "Mañana (Is Soon Enough for Me)" and "It's a Good Day". Barbour was an alcoholic and had domestic troubles with Lee; this eventually split apart their marriage, which ended in 1952. Dave Barbour and His Orchestra had the best-selling version (USA) of the peppy song "Mambo Jambo."
Barbour's remaining career was far less successful than Lee's (who would marry three more times). His songwriting royalties sustained him, as the tunes he co-wrote with Lee were covered by many hitmakers of the 1950s. He acted in the films The Secret Fury and Mr. Music, and occasionally performed, including with Benny Carter in 1962. He died in 1965 in Malibu Beach, California, aged 53. He is survived by his daughter by Peggy Lee, Nicki Lee Foster (born 1943).