RAY McKINLEY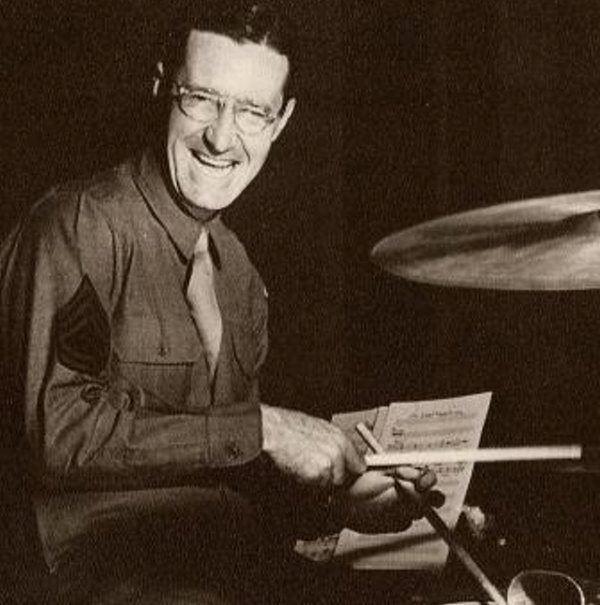 Biography
Ray McKinley (June 18, 1910 –May 7, 1995) was an American jazz drummer, singer, and bandleader.
Ray McKinley got his start working with local bands in the Dallas–Fort Worth area, before joining Smith Ballew in 1929, when he met Glenn Miller. The two formed a friendship that lasted from 1929 until Miller's death in 1944. McKinley and Miller joined the Dorsey Brothers in 1934. Miller left for Ray Noble in December 1934, while McKinley remained.
The Dorsey brothers split in 1935, with McKinley remaining with Jimmy Dorsey until 1939, when he joined Will Bradley, becoming co-leader. McKinley's biggest hit with Bradley, as a singer, was "Beat Me Daddy, Eight to the Bar", which he recorded early in the year 1940 (and for which he got partial songwriting credit under his wife's maiden name Eleanore Sheehy). McKinley is referred to as "Eight Beat Mack" in the lyrics to the song "Down the Road a Piece," which he recorded as a trio with Will Bradley and Freddie Slack in 1940. This was the earliest recording of the song, which was written specifically for Bradley's band by Don Raye.
Ray McKinley and Bradley split in 1942 and McKinley formed his own band, which recorded for Capitol Records. The McKinley band was short-lived. When McKinley broke up the band, he joined Glenn Miller's Army Air Force band, which he co-led with arranger Jerry Gray after Miller's disappearance in December 1944.
Upon being discharged at the end of the following year, Ray McKinley formed an excellent, remarkably modern big band that featured a book of original material by legendary arranger Eddie Sauter (along with a helping of novelty vocals by the leader). Sam Butera, later of the back-up band for Louis Prima was also a member.
But with the business in decline, by 1950 that band was history and McKinley began evolving into a part-time leader and sometime radio and TV personality.
In 1956, capitalizing on the popularity of The Glenn Miller Story movie with James Stewart, Ray McKinley was chosen to be the leader of the revived Glenn Miller band, which he led until 1966. He co-hosted (with former Air Force band vocalist Johnny Desmond) a 13-week CBS-TV summer series with the band on CBS-TV in 1961.
Ray McKinley's last recording session was in 1977 for Chirascuro records