MEL TORMÉ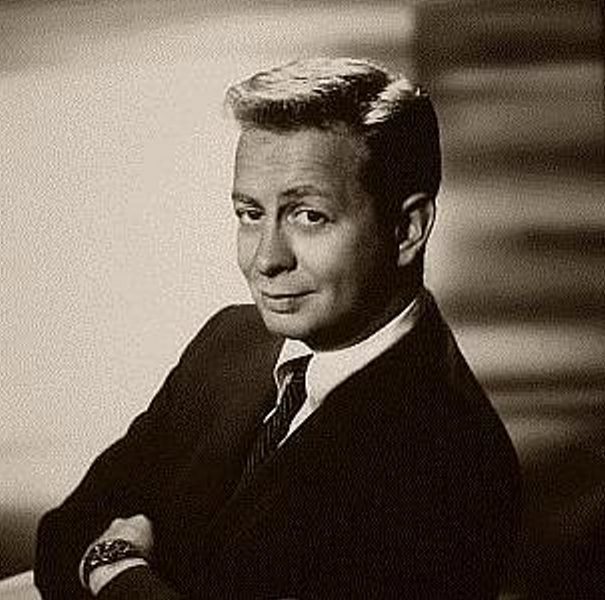 Biography
Mel Torme was born in Chicago on September 13, 1925, and he first carved out a reputation for himself as a child actor and performer on radio. By the age of nine he was a veteran of Chicago radio series, while at the same time working in vaudeville and learning to play the drums. When he was fifteen, band leader and trumpeter Harry James offered him a job in his band as a singer and drummer – but child labor laws kept Mel from taking it.
In 1942 his family took him to Los Angeles, where he went to Hollywood High and joined the Chico Marx band as a drummer, arranger and singer. In 1943 Mel Torme appeared in the movie Higher And Higher, with his vocal swing band, the Mel-Tones. It was at this point that he first began recording. His career was interrupted by a stint in the military during the latter part of World War II, but he was out and ready for a solo career by 1946.
As a singer Mel Torme combined a soft, husky voice (which he attributed to a botched tonsillectomy) with impeccable timing and a jazz sensibility. But his managers guided him into becoming what was then called a "crooner," the kind of matinee-idol singer created by Bing Crosby and exemplified by Frank Sinatra. Despite lacking the kind of looks associated with bobby-soxer idolization – Torme was always stocky, with vaguely doughy features – he was a hit singer. And it was in this period of early fame and adulation that he was crowned "the Velvet Fog" – a sobriquet he always hated.
Mel Torme signed on early with the fledgling postwar Capitol label, and rode to success with it, releasing Capitol's first LP, California Suite. But Capitol, despite being founded as a musician's label, pushed Torme to follow Sinatra's footsteps to popular success, and his career grew cold, his early promise starting to fade. It made news in Down Beat when, in 1955, Torme left Capitol for the small independent and jazz-oriented Bethlehem label and started singing jazz again. "If you're going to fail, do it with style," Torme said, jokingly, about the transition. Bethlehem cast Torme in the role of Porgy in its jazz version of Porgy And Bess (with Frances Faye as Bess) – an unlikely but successful role for him.
Mel Torme was rarely to be found in the Top Hits charts after that – although his 1962 "Comin' Home Baby" did crack the Top 40 – but he was liberated to follow his own choices in his career, and as Richard Harrington suggests in The Washington Post, "It's doubtful the longevity that marked Torme's career would have been possible had he not presciently moved to jazz more than forty years ago."
"It really wasn't until the end of my high school days, in 1943, that I determined to be a jazz singer," Torme once said. "Then I got sidetracked. For a long period I was singing mushy, sentimental songs. I never liked it."
One of those sentimental songs was "The Christmas Song," which he cowrote with Robert Wells. It was a huge hit for Nat "King" Cole in 1946 and has been an evergreen since then. (If the title doesn't jog your memory, the opening lines will: "Chestnuts roasting on an open fire, Jack Frost nipping at your nose….") Torme subsequently wrote around 300 songs, more than half, including "Born To Be Blue," in collaboration with Wells.
In the late Seventies Mel Torme began working with fellow jazz pianist George Shearing. "I humbly put forth that Mel and I had the best musical marriage in many a year," said Shearing. "We literally breathed together during our countless performances. As Mel put it, 'We were two bodies of one musical mind.'" They won two Grammy awards together. In 1984 Torme said of their pairing, "We have a genuine friendship and I think it absolutely transmits itself on the stage and beyond the music."
Torme's devotion to music all but eclipses other important aspects of his career. In the early Fifties he hosted the first afternoon talk show on TV. He wrote six books, including The Other Side of the Rainbow, the 1970 best-selling behind-the-scenes description of his year as the musical director of Judy Garland's prime-time TV show. Among the other books were his 1988 autobiography, It Wasn't All Velvet, books about drummer Buddy Rich and his singing influences, and several novels.
On August 8, 1996, a stroke abruptly ended his 65-year singing career. In February 1999, Tormé was awarded the Grammy Lifetime Achievement Award. Another stroke in 1999 ended his life. Torme is buried at the Westwood Village Memorial Park cemetery in Los Angeles. In his eulogistic essay, John Andrews wrote about Tormé
Mel Torme was in twenty films early in his career (most of them better forgotten), and made a secondary career for himself in TV, winning an Emmy nomination for a Playhouse 90 role in 1957. In addition to Night Court, he also made appearances on Seinfeld and MTV's Beach House – and even starred in a Mountain Dew commercial.