JOHNNY MATHIS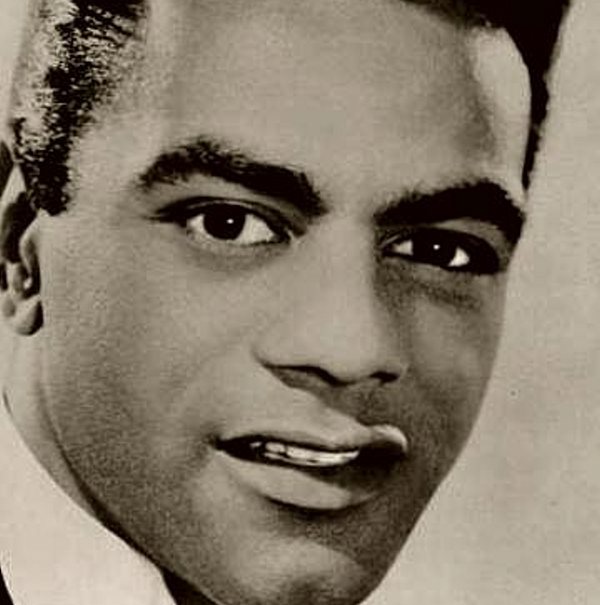 Biography
Johnny Mathis was born in Gilmer, Texas, the fourth of seven children of Clem Mathis and his wife, Mildred Boyd. This family moved to San Francisco, California, settling on 32nd Ave. in the Richmond District, where young Johnny grew up. His father had worked in vaudeville, and when he saw his son's talent, he bought an old upright piano for $25.00 and encouraged his efforts. Mathis began learning songs and routines from his father. His first known song was "My Blue Heaven."[3] Mathis started singing and dancing for visitors at home, and at school and church functions.
When Johnny Mathis was age 13, a voice teacher named Connie Cox accepted him as her student in exchange for doing work around her house. Johnny studied with Ms. Cox for six years, learning vocal scales and exercises, voice production, classical, and operatic singing. He is one of the few popular singers who received years of professional voice training that included opera. The first band Mathis sang with was formed by his fellow high school student Merl Saunders. Mathis eulogized him in October 2008 at his funeral, to thank him for giving him his first chance as a singer.
Johnny Mathis was also a star athlete at George Washington High School in San Francisco. He was a high jumper and a hurdler, and he played on the basketball team. In 1954, he enrolled at the San Francisco State University on an athletic scholarship intending to become an English teacher and a physical education teacher.
Johnny Mathis was spotted at a jam session by Helen Noga, the former head cocktail waitress and co-owner of the Black Hawk Club in San Francisco and The DownBeat Club along with her husband John, and Guido Caccienti. She became his musical manager. The clubs attracted the world's finest jazz musicians, including Dave Brubeck, Miles Davis, and Billie Holiday. John Noga and Guido Caccienti had opened the Black Hawk in the fall of 1949. In September 1955, after Noga had found Mathis a job singing weekends at Ann Dee's 440 Club, she contacted the jazz producer George Avakian, whom she had found out was on vacation near San Francisco. Avakian came to listen to Mathis sing, and after doing so, he sent a telegram to Columbia Records stating: Have found phenomenal 19-year-old boy who could go all the way. Send blank contracts.
At San Francisco State, Johnny Mathis had become noteworty as a high jumper, and in 1956, he was asked to try out for the U.S. Olympic Team that would travel to Melbourne, Australia, that fall (November 1956). Mathis had to decide whether to go to the Olympic trials, or to keep his appointment in New York City to make his first recordings. On his father's advice, Mathis opted to embark on his professional singing career in 1956, rather than trying to go to Melbourne. His LP record album was published in late 1956 instead of wating until the first quarter of 1957.
Mathis's first record album Johnny Mathis: A New Sound In Popular Song was a slow-selling jazz album, but Mathis stayed in New York City to sing in nightclubs. His second album was produced by the Columbia Records vice-president and record producer Mitch Miller, who helped to define the Mathis sound. Miller preferred that Mathis sing soft, romantic ballads, pairing him up with the conductor and music arranger Ray Conniff, and later, Ray Ellis, Glenn Osser, and Robert Mersey. In late 1956, Mathis recorded two of his most popular songs: Wonderful! Wonderful! and It's Not For Me To Say.
Also that year the Metro Goldwyn Mayer film company signed up Mathis to sing the latter song in the movie Lizzie (1957). Shortly afterwards, Mathis made his second film appearance for 20th Century Fox, singing the song A Certain Smile in the film of that title. He had small acting roles in both movies as a bar singer. This early cinematic visibility in two successful movies gave him mass exposure. Next was his appearance on the popular and widespread TV program The Ed Sullivan Show in 1957. This helped Mathis to increase his popularity. Critics called him the velvet voice.
Johnny Mathis also appeared during this period on ABC-TV's The Pat Boone Chevy Showroom, as also did the other African American entertainers Ella Fitzgerald and Pearl Bailey.
During the summer of 1958, Mathis left San Francisco with the Nogas, who sold their interest in the Black Hawk club that year to Max Weiss, the secretary-treasurer of San Francisco's avant-garde Fantasy Records, and he moved to Beverly Hills, California where the Nogas bought a house where Johnny Mathis resided with them, their daughter Beverly, and their granddaughter. This house was later sold to the singer Dionne Warwick during the summer of 1973 for about $360,000.
Helen Noga, looking to expand her operations into production, financing, and publishing, also founded and funded Philles Records in 1961 with Phil Spector, with Lester Sills handling the business side of sales and promotion, which launched the Crystals in September 1961.
Using money from Liberty Records, Noga was bought out by Spector in 1962 for around $60,000. Mathis had two of his biggest hits in the years 1962 and 1963, with "Gina" (#6) and "What Will Mary Say" (#9). In October 1964, Mathis sued Noga to void the management arrangement, which Noga fought with a counterclaim in December 1964. Mathis purchased a mansion in the Hollywood Hills, that was originally built by billionaire Howard Hughes in 1946, and later owned by hotel owner Hyatt R. Von Dehn and Oilman Robert Calhoun, and where he still maintains a residence.
After splitting from Mrs. Noga, Mathis established Jon Mat Records, Inc., incorporated in California May 11, 1967, to produce his recordings (previously, he created Global Records, Inc. to produce his Mercury albums), and Rojon Productions, Inc., incorporated in California September 30, 1964, to handle all of his concert, theater, showroom, and television appearances, and all promotional and charitable activities.
His new manager and business partner was Ray Haughn, who helped guide his career until his death in September 1984. Since that time, Mathis has taken sole responsibility for his career, operating from office suites at 1612 W Olive Avenue in Burbank, California. With the exception of a four-year break with Mercury Records in the mid-1960s, he has been with Columbia Records throughout his recording career.
Pieces of music from numerous Mathis albums continue to be used throughout motion pictures and television with great effect to impart nostalgia or mood themes, for example Chances Are was played during an extraterrestrial visit in the film Close Encounters of the Third Kind (1977), as well as Wonderful! Wonderful! being used in the standout Home episode of the fourth season of The X-Files television series. Also various of Mathis's songs have been played more recently in the TV series Mad Men.
Although he is frequently described as a romantic singer, his discography includes jazz, traditional pop, Brazilian music, Spanish music, soul music, rhythm and blues, soft rock, Broadway theatre, Tin Pan Alley standards, some blues and country songs, and even a few disco songs for his album Mathis Magic in 1979. During 1980 – 81 Mathis recorded an album with Chic's Bernard Edwards and Nile Rodgers, I Love My Lady, which remains unreleased, the only official appearance of any material from the project being the inclusion of three tracks on a Chic box set in 2010. Mathis also remains associated with holiday music[clarification needed], having recorded five albums of Christmas music. He has the distinction of having the longest tenure of any recording artist on the Columbia Records label, having been with the label from 1956 to 1963 and from 1968 to the present.
In 1958, Johnny's Greatest Hits was released and was the first ever Greatest Hits album in the music industry. It began the Greatest Hits tradition copied by every record company. His LP album Johnny's Greatest Hits in 1958 spent an unprecedented 491 consecutive weeks through 1967 (nine and a half years) on the Billboard top 100 album charts, earning him a mention in the Guinness Book of World Records. He has had five of his albums on the Billboard charts simultaneously, an achievement equaled by only two other singers, Frank Sinatra, and Barry Manilow. He has released 200 singles and had 71 songs charted around the world. Recordings Historian Paul Gambaccini confims Mathis recordings have sold well over 350 million worldwide and he is the third most successful recording artist in the USA. This makes Johnny Mathis the third biggest selling recording artist of the 20th century, only after Elvis Presley and Frank Sinatra.
Johnny Mathis has also won three Grammy awards. Then in 1978, his hit duet "The Last Time I Felt Like This" from the film Same Time, Next Year was nominated for an Academy Award for Best Original Song. Mathis and Jane Olivor sang the song at the Academy Awards ceremony, in his second performance at the Oscars. He has taped twelve of his own television specials and made over 300 television guest appearances with 33 of them being on The Tonight Show. Through the years his songs (or parts of them) have been heard in 100 plus television shows and films around the globe. His appearance on the Live by Request broadcast in May 1998 on the A&E Network had the largest television viewing audience of the series.
Also in 1989, Johnny sang the theme for the ABC daytime soap opera Loving.
Johnny Mathis continues to perform live, but from 2000 forward, he has limited his concert performances to about fifty to sixty per year. In 2006, his schedule included a British tour that included his annual Scottish golf vacation and attending the 2006 Ryder Cup tournament, two periods at his favourite Hilton Hotel in Las Vegas, Nevada.
The Tonight Show host Johnny Carson said: "Johnny Mathis is the best ballad singer in the world." He appeared on the NBC Tonight Show with Jay Leno[7] as a guest on March 29, 2007, to sing his classic song The Shadow of Your Smile with the saxophonist Dave Koz. Mathis returned to the British Top 20 album chart in 2007 with the Sony BMG release The Very Best of Johnny Mathis and again in 2008 with the Columbia CD "A Night to Remember". In 2007, Mathis was inducted into the Hit Parade Hall of Fame.
A performance by Johnny Mathis in Florida in 2009 earned him $65,000 in artist fees and royalties.
Mathis's song Wonderful! Wonderful! was used in the conclusion to the long running TV series Desperate Housewives as "Karen McClusky" passed away.
In a 1982 Us Magazine article, Mathis was quoted as having said, "Homosexuality is a way of life that I've grown accustomed to." Us Magazine later retracted the statement. After more than 20 years of silence on the subject, Mathis revealed in an interview, in 2006, that his silence was due to death threats he received as a result of that 1982 article.
On April 13, 2006, Mathis granted a podcast interview with The Strip in which he talked about the subject once again, and how some of his reticence to speak on the subject was partially generational.
Despite missing the Olympic high jump trials, he has never abandoned his enthusiasm for sports and today is an avid golfer who has achieved nine holes-in-one, and has hosted several Johnny Mathis Golf Tournaments in the United Kingdom and the US. Since 1985 he has been hosting a charity golf tournament in Belfast sponsored by Shell corporation, and the annual Johnny Mathis Invitational Track & Field Meet has continued at San Francisco State University since it started in 1982.
In 1982 he published a cookbook, Cooking for You Alone.
Mathis has undergone rehabilitation for both alcohol and prescription drug addictions.