JOHNNY CASH
Biographie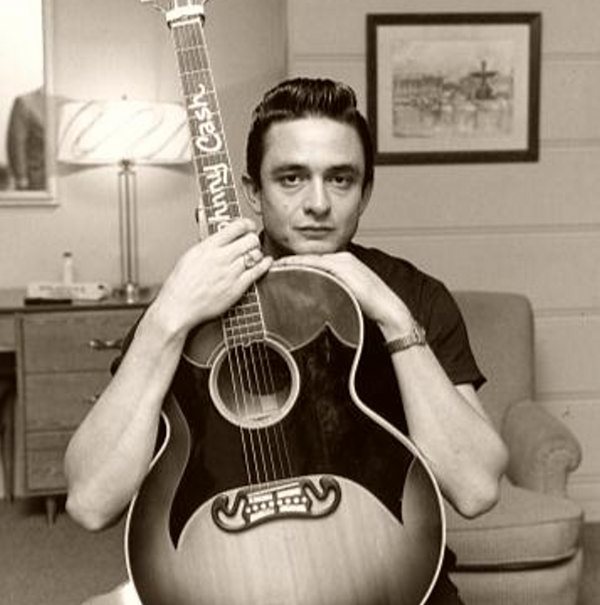 Johnny Cash was born in rural, south-central Arkansas, on February 26, 1932. His birth place is almost directly across the Mississippi from Lake County where Carl Perkins was born six weeks later. The family moved to Dyess, Arkansas when he was three. His father Ray Cash, was a farmer, hobo, and odd job laborer.
The move to Dyess meant hope to the poverty stricken Cash Family.  Ray and his son Roy, worked hard developing their government subsidized farmand when  Johnny was older he joined them. After working in the fields during the day, Johnny would listen to the radio at night, picking out the Memphis stations with their mix of country and blues songs. Johnny began composing songs, his first at the age of 12, combining the best of both styles. His family, especially his mother Reba, encouraged him.
When he was older, he left home to work in Pontiac, MI. The job lasted only two weeks before he returned home to Arkansas. On July 7,1950 he enlisted in the Air Force, Before leaving Cash went roller skating in San Antonio, Texas. There he met Vivian Liberto, then seventeen and in her last year of high school. They dated a few weeks and wrote each other while Cash was overseas. They decided to get married when he returned. It was while he was stationed in Germany, that he bought his first guitar. He began setting his songs to music, and one of the first was "Folsom Prison Blues."
On July 3, 1954 Cash was discharged from the Air Force. On August 7, 1954 he married Vivian Liberto and set up home on Tutwiler Avenue in Memphis. His older brother Ray found him a job selling appliances.
Trying to break in to the music business Cash auditioned for a job as a radio announcer at a station in Corith, Mississippi, but was turned down because lack of experience. Using his G.I. benefits, Cash then enrolled at the Keegan School of Broadcasting in Memphis .
IA few days after getting out of the service, Cash visited his older brother Roy in Memphis. Roy Cash was working at Hoehn Chevrolet where he worked with three mechanics who played together at home, small benefit concerts and Sunday morning radio. One of the three was Luther Perkins who would later develop the guitar sound that complemented Cash's stark baritone. was during this time that he met Luther Perkins and Marshall Perkins. The three decided to try and be professional entertainers. They approached Sun Records, but Sam Phillips was busy promoting Elvis Presley's first records. Eventually with Cash playing guitar and singing in his deep baritone voice of exceptionally low and narrow range, they auditioned for Phillips in March, 1955.
Signed to Sun as Johnny Cash and the Tennessee Two, their first single, "Cry, Cry, Cry," became a moderate country hit. After the two sided smash "So Doggone Lonesome" b/w "Folsom Prison Blues," the group had their first major pop/country hit with Cash's own "I Walk the Line" in 1956. The group appeared on the Louisiana Hayride in December 1955, becoming regulars, before graduating to the Grand Ole Opry in July 1956. They subsequently achieved major pop/top country hits with "Ballad of a Teenage Queen" and "Guess Things Happen That Way" in 1958. That year the group became Johnny Cash and the Tennessee Three with the addition of W.S. Holland, one of country music's first drummers.
On August 1958, the group switched to Columbia Records, soon having a moderate pop/top hit with "Don't Take Your Guns to Town." Leaving the Grand Ole Opry and moving to California, Cash started working with June Carter of the legendary Carter Family, in 1961. feeling the strain of constant touring, and the collapse of his first marriage and death of friend Johnny Horton, Cash began taking amphetamines and tranquilizers to cope. In 1963 he scored his first major pop/top hit with Columbia with "Ring of Fire."
Johnny Cash soon began frequenting the Greenwich Village folk music scene and his next moderate hit "Understand Your Man" had a definite folk feel. In 1964 he appeared with Bob Dylan at the Newport Folk Festival and recorded Bitter Tears, his tribute to the plight of the American Indian. It yielded a smash country hit "Ballad of Ira Hayes," and soon Cash and June Carter scored a country hit with Dylan's "It Ain't Me Babe." Cash's 1965 album Orange Blossom Special yielded a smash country hit/ moderate pop hit with the title song.
Despite increasing popular success, Cash's life seem to deteriorate. In October 1965 he was arrested at the El Paso international airport in possession of stimulants and tranquilizers. After being found near death in a small Georgia town in 1967, Cash decided to reform. With June Carter providing moral support he cleaned up his act. The pair had a smash hit with "Jackson" in 1967 and married in March 1968. In early 1970 they had a smash/moderate pop hit with "If I Were a Carpenter."
Luther Perkins died accidentally in 1968 and was replaced by Bob Wooten. The 1968 album Johnny Cash at Folsom Prison revitalized his career and made him an international star. The album yielded a top country/moderate pop hit "Folsom Prison Blues." Cash had another top country/ smash pop hit with the novelty tune "A Boy Named Sue" from Johnny Cash at San Quentin, another best seller.In early 1969 Cash had another country and pop hit with Carl Perkin's "Daddy Sang Bass."
In 1969 Cash's ABC television series debuted featuring a film of Cash and Bob Dylan recording "Girl from the North Country." The song later appeared on Dylan's Nashville Skyline, Dylan's first country album.Later shows featured such artists as Gordon Lightfoot, Kris Kristofferson, Waylon Jennings, and Joni Mitchell. During the 70s daughter Roseanne Carter and step-daughter Carlene Carter worked with the Johnny Cash Road Show.
Johnny Cash demonstrated his social consciousness in the early '70s with the hits "What Is Truth" and "The Man in Black." He also narrated and co-produced the soundtrack to the Christian epic Gospel Road and assisted in the production of The Trail of Tears, a dramatization of the tragedy of the Cherokee Indians, broadcast on public television.
Johnny Cash scored a top country/ major pop hit (his last) with the novelty song "One Piece at a Time" in 1976 and a smash country hit with "There Ain't No Good Chain Gangs" recorded with Waylon Jennings. In 1980 Cash returned to his early style of music, recording Rockabilly Blues with Nick Lowe and Dave Edmunds of Rockpile. His last major country hit came in 1981, with "The Baron."
In 1985 Cash joined Waylon Jennings, Willie Nelson, and Kris Kristofferson to tour and record as the Highwaymen. They had major hits with "The Highwaymen" and "Desperadoes Waiting for a Train."Cash later had a moderate hit with Waylon Jennings with "Even Cowgirls Get the Blues" and and a major country hit with Hank Williams Jr. "That Old Wheel."  In 1986 Cash reunited with old Sun alumni Carl Perkins, Jerry Lee Lewis, and Roy Orbison for Class of '55, contributing "I Will Rock and Roll With You."
In 1986 Johnny Cash was dropped by Columbia Records after twenty-eight years. he then signed with Mercury Records, switching to American Records in 1993. In 1990 Cash rejoined Jennings, Nelson and Kristofferson as the Highwaymen for another album and round of touring. In 1993 he sang "The Wanderer" with U2, included on their Zooropa album and later recorded American Recordings. In 1965 Cash once again joined the Highwaymen, to tour and record for Liberty Records The Road Goes On Forever. Cash recorded a 1996 album with Tom Petty and the Heartbreakers, which featured several Cash originals. Over the years Johnny cash has appeared in dramatic roles in films (1970's A gunfight with Kirk Douglas) and television (1986's Stagecoach with the other Highwaymen, and Davey Crockett), and even written a novel (1986's Man in White). Despite health problems (Cash had a double by-pass heart operation in 1988) Johnny Cash has continued to tour with his wife, June and son John Carter Cash.