JO STAFFORD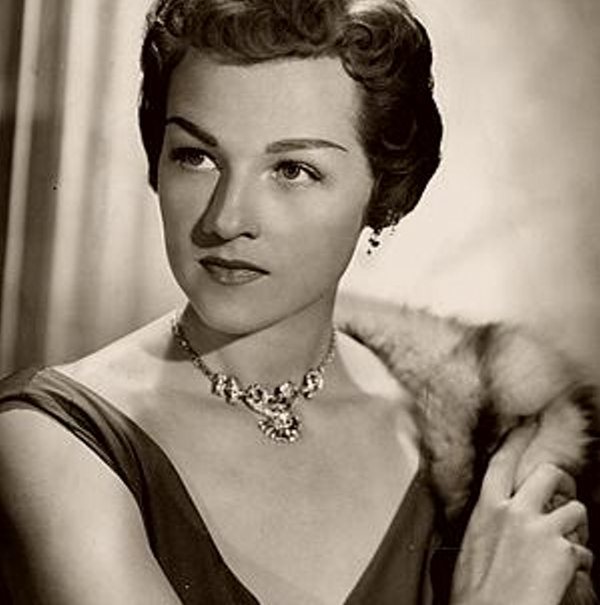 Biography
Jo Stafford, Jo Elizabeth Stafford, the third of four sisters, was born November 12, 1917 on a tract of land known as "Lease 35" in Coalinga,California. Her mother, Anna York Stafford,a distant cousin of World War I hero Alvin York was known as one of the finest five-string banjoists in Gainsboro, Tennessee. Her father, Grover Cleveland Stafford, had come West to work in the California oil fields.
Jo's professional debut was with the Stafford Sisters, a trio in which Jo, upon graduation from Long Beach Poly High, joined her sisters Christine and Pauline. They had their own weekly radio show on KHJ radio, were regular performers on David Broekman's California Melodies, the Crockett Family of Kentucky shows, and performed both solo and group vocal work for all the major motion picture studios.
After marriage broke up the Stafford Sisters trio , Jo joined a group called the Pied Pipers, and along with her seven other group members was hired by Tommy Dorsey for the Raleigh-Kool radio program in 1938. After ten weeks with Dorsey the group dissolved, but Jo was hired back with three others once again as the Pied Pipers who sang with Dorsey for three years, recorded "I'll Never Smile Again" with Frank Sinatra, and provided Jo with the opportunity of making her own solo recordings with the Dorsey band. Her first solo recording was "Little Man with a Candy Cigar."
When Johnny Mercer assembled the artists to form Capitol Records in 1943, Jo began a recording career that was to culminate in Columbia Records giving her a Diamond Award as the first recording artist to sell 25,000,000 Records.
After guesting on all the major radio shows, Jo started her own series with the Chesterfield Supper Club, to which was added the Jo Stafford Show for Revere Camera, followed by featured roles on the Carnation and Club 15 Shows.
In 1950, Jo Stafford began a series of broadcasts that brought her international recognition. In Hollywood she recorded a weekly fifteen minute Youth Program for the Voice of America to internationally promote the cause of democracy.
Soon she added another weekly half-hour musical show, also recorded in Hollywood, for broadcast over 200,000 watt Radio Luxembourg; Europe's most powerful station. During this period Frank Lee , then British director of Radio Luxembourg said: "In her own quiet way Stafford is selling America to Europe."
In 1952, coinciding with her marriage to arranger/conductor/composer Paul Weston, European demand (and a honeymoon) took them to London, where she headlined the bill at the Palladium and made appearances for the Voice of America in the British Isles and on the continent.
With the advent of television , Jo Stafford guested on all the major variety shows, and in 1954 hosted her own JO STAFFORD SHOW on CBS-TV. Thus when Hollywood decided to commemorate its stars with plaques in the sidewalks of Hollywood Boulevard and Vine Street Jo Stafford was one of the few stars to have three separate plaques, one for records, one for radio, and one for television.
In the late fifties she cut down her activities sharply in order to devote her time to her family, and aside from a few trips to New York to appear on the Garry Moore and Firestone Hour Variety Shows, she did only recordings and TV shows based in Hollywood.
 In 1961 the family moved to London for the summer so that Jo could host her final JO STAFFORD SHOW, a syndicated series for the ATV British Network. These shows were seen in this country, Australia, New Zealand and Canada, as well as in the British Isles, and her guests included Bob Hope, Peggy Lee, Ella Fitzgerald and Peter Sellers.
While family commitments precluded her public appearances, Jo Stafford did continue to record for Capitol, Dot , and Reader's Digest Records, as well as making religious albums for Corinthian and the World Library of Sacred Music.
Her Hits include: "You Belong to Me", "Timtayshun" , "Whispering Hope" ( with Gordon MacRae ), "Shrimp Boats", "Make Love to Me", "Jambalaya", her album of "American Folk Songs", and the comedy albums made under the name of Darlene Edwards. One of these, "Jonathan and Darlene in Paris", won a Grammy Award in 1960 for Best Comedy Recording. Most of her best known recordings including "The Columbia Hits Collection", are currently in release on the Corinthian Records label.
She is a past-president of SHARE, one of Hollywood's best known charitable organizations, which concerns itself with aiding mentally handicapped children. One of her last public appearances was at SHARE's 25th Anniversary Show, along with Frank Sinatra, Dean Martin, Sammy Davis,Jr., Johnny Carson and Milton Berle.
Her final public vocal performance was with the Hi Los as part of a Society Of Singers tribute to Frank Sinatra. Her Corinthian recordings continue to enjoy sales throughout the world.
Jo Stafford passed away on July 17th,2008.