JASCHA HEIFETZ
Biographie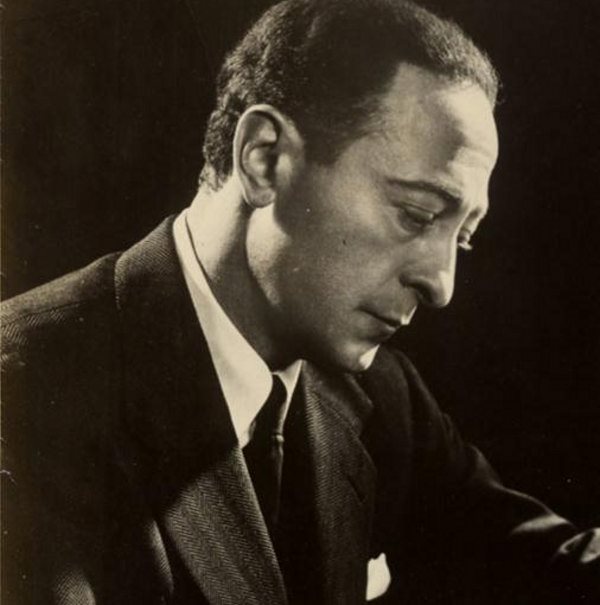 Jascha Heifetz (1901-1987)  "Born in Russia, first lesson at three, debut at seven, debut in America at 17. That's all there really is."
That's how Jascha Heifetz described his own life in 1939, but there is much more to the story of this concert superstar who changed violin playing forever. He traveled the globe carrying his Stradivarius and Guarnerius violins in his trademark double case. His record label called him 'The Violinist of the Century', and he was without a doubt the greatest performer of his day.
Isaac Stern said "Heifetz represents a standard of polished execution unrivalled in my memory…." The great violin teacher Carl Flesch said "There has never been any violinist who has come closer to absolute perfection. Heifetz will no doubt hold the office of the high priest in our profession for many years to come."
Who was Heifetz? What did he achieve? What musical values did he represent? And, just as importantly, what price did he pay for being 'The Violinist of the Century'?
Jascha Heifetz was born in Vilna, Russia (now Vilnius, Lithuania) on February 2, 1901. His father was a concertmaster and violinist who had no formal training. Heifetz got his first violin (quarter-size) and lessons from his father at the age of three. The young Heifetz' face would scrunch up if he heard dissonance and he would throw a fit when a wrong note was played. His natural ability was evident early on. He easily held the violin under his chin and prompted it with his left hand, things that usually take several lessons to master. He amazed audiences by playing the Mendelssohn Concerto without difficulty at the age of six.
His mother shielded him from all the praise and attention he was getting. It was not until 30 years after his American debut and after his mother had died that Heifetz discovered a sealed chest full of critic's reviews all carefully arranged in chronological order.
His father had a "horror of mediocrity," Heifetz said. The perfectionism was passed from father to son and became a dominant character trait, showing up not only in Heifetz' music but also in his hobbies – ping-pong, tennis and even mixing drinks – all of which he took very seriously.
The family attended concerts, theater and cultural events which served, along with regular family musical evenings, to enrich Heifetz' musical experience and nurture the young prodigy.
After two years with his father and two more with a professional teacher, Heifetz was ready for the master, Leopold Auer of the St. Petersburg Conservatory. Considered the greatest teacher of his time, Auer produced a string of violin prodigies including Efrem Zimbalist and Mischa Elman. The story, possibly apocryphal, is told that Auer was reduced to tears and proclaimed Heifetz to be the best at the boy's audition.
The Heifetz family sacrificed greatly so that young Jascha could take up studies with Auer in St. Petersburg. They left the comfort of their hometown and paid for his lessons while facing diminished and uncertain economic prospects in a strange city. After being told that Jews could not live in St. Petersburg unless they were students, Heifetz' father enrolled in the Conservatory and became its oldest student (age 40) to get around the restriction (although he did not actually attend classes). Also, these were the years leading up to the Communist revolution and the city was increasingly in turmoil during the time the family was there.
Heifetz spent six months with an assistant instructor mastering technique, then moved on to Auer who concentrated on repertoire and interpretation. Heifetz took away a wealth of technique and musical understanding from Auer. There is a direct line from Auer to Heifetz' graceful double stops and smooth glissandi. Auer also focused on Heifetz' need to develop his bowing arm and free up greater movement in the arm and wrist, while not interfering with Heifetz' natural high bowing position.
Heifetz made his European debut in 1912 at the age of 11 with the Berlin Philharmonic, playing the Tchaikovsky Violin Concerto. Afterwards, Heifetz attended a dinner party for important musicians and other guests and offered to play the Mendelssohn Concerto for the evening's entertainment. When no score could be found, the well-known violinist and composer Fritz Kreisler offered to accompany Heifetz on the piano from memory. After the piece was played, Kreisler reportedly rose and said, "Well, gentlemen, now we can all break our violins…."
The debut was a triumph and Heifetz became a superstar in short order, with agents chasing him for contracts while he was still a teenager.
Meanwhile, the situation in St. Petersburg steadily deteriorated. The Germans invaded Russia, there were food shortages and arrests, Jews were persecuted or deported, and Lenin was in the streets preaching communist utopia and the end of Tsarist rule. Auer left Russia, believing that the future of music was in America, and urged Heifetz to do the same.
Auer arranged an offer from a New York firm to bring the Heifetz family to the United States and pay $25,000 in exchange for 50 concerts. In 1917, the family crossed Siberia and steamed to San Francisco by way of Japan where Heifetz stopped off to give a concert. Like many other musical émigrés of the period, Heifetz became a U.S. citizen and never lived in Europe again.
His reputation preceded him and New York music circles were abuzz with excitement. His New York debut took place at Carnegie Hall in Red October 1917 and the reviews were ecstatic, one calling the concert 'a turning point in the musical history of the country.'
Heifetz went on tour in Europe at age 19 and gave concerts around the world a year later. After this, discipline took a backseat, which is perhaps not surprising since he had been working seriously since the age of 3 and had already conquered the world. He started hanging around with Efrem Zimbalist, Fritz Kreisler and George Gershwin. He took up tennis and bought a sports car. He also played baseball, something Gershwin would not do because of the risk to his hands. The critics took notice that Heifetz was slacking off and pounced on flaws in his performances.
Looking back, the mature Heifetz would call this period in his life a 'second childhood' and acknowledged that many of the things he did were risky and dangerous. Heifetz ultimately rededicated himself to music. He later thanked a harsh critic: "He said that I owed it to myself and music never to be content. I knew the man wished me well – he hit home because he wrote the truth. He jolted me out of my complacency and put me on the right path…. I shall always be grateful…."
At the end of World War II, after years of heavy concertizing, Heifetz found himself divorced, alone and fatigued. He married again and stayed off the concert stage for almost two years, using the time to read and become more introspective about his music.
Heifetz last regular concert season was 1955-56. After that, the concert stage was gradually replaced with other musical activities. There were radio concerts, 150 arrangements and transcriptions, and violin students at the University of Southern California. He composed some works and even had a hit song under the pseudonym 'Jim Hoyl'. His teaching activities produced an 8-part Master Class for the National Education Television network.
He especially enjoyed playing in chamber formations at home with friends. Cellist Gregor Piatigorsky, violist William Primrose, and pianist Leonard Pennario were frequent guests. Their sessions eventually became billed as 'The Summit Meeting of the Strings' and resulted in a series of popular recordings for RCA.