FRANKIE AVALON
Biographie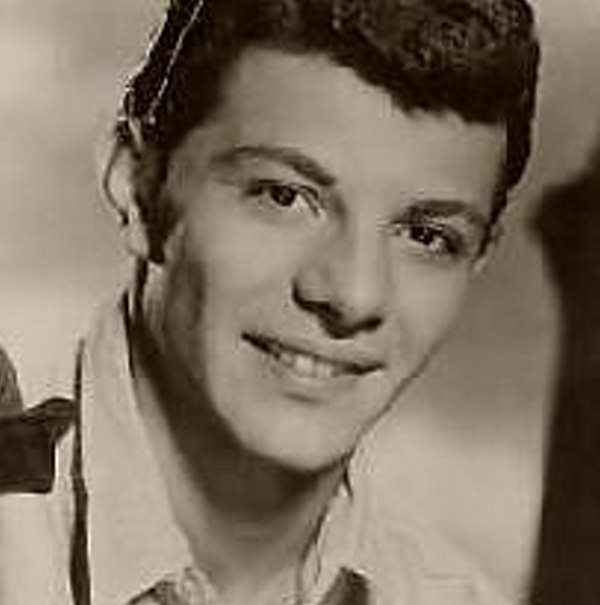 Frankie Avalon (born September 18, 1940) is an American actor, singer, playwright, and former teen idol.
Frankie Avalon was born Francis Thomas Avallone in Philadelphia, Pennsylvania, the son of Mary Loretta and Nicholas J. Avallone. By the time he was 12, Avalon was on U.S. television playing his trumpet. As a teenager he played with Bobby Rydell in Rocco and the Saints. In 1959, "Venus" (5 weeks #1) and "Why" went to number one on the Billboard Hot 100. "Why" was the last #1 of the 1950s. Avalon had 31 charted U.S. Billboard singles from 1958 to late 1962, including "Just Ask Your Heart" (U.S. #7), "I'll Wait For You" (U.S. #15), "Bobby Sox to Stockings" (U.S. #8), and "A Boy Without a Girl" (U.S. #10). Most of his hits were written and/or produced by Bob Marcucci, head of Chancellor Records.
Teamed frequently with Annette Funicello, Avalon starred in a number of popular "beach party" comedy films during the mid-1960s. The wholesome and romantic coupling of "Frankie and Annette" in summer movies such as Beach Party and Beach Blanket Bingo became iconic figures in American films during that era.
Avalon also had straight dramatic parts in the John Wayne historical western film The Alamo, as well as the science-fiction story Voyage to the Bottom of the Sea (1961) with Barbara Eden.
Materializing as a character called Teen Angel, his performance of "Beauty School Dropout" in the hit 1978 film of the musical Grease introduced Avalon to a new generation of viewers.
Frankie Avalon  appeared in nearly two dozen TV episodes, including ABC's The Bing Crosby Show and The Patty Duke Show, appearing often as himself. Later, he became a national television spokesperson for Sonic Drive-In.In 1965 he appeared in the Combat! episode "Brother, Brother" as a childhood friend of Pfc.Kirby, played by Jack Hogan.
The 1980 film The Idolmaker, written by Ed Di Lorenzo and directed by Taylor Hackford, was a thinly-disguised biography of Avalon ("Tommy Dee" in the film) as well as 1950s teenage star Fabian (called "Caesare" in the film), along with songwriter/producer Bob Marcucci (called "Vinnie Vacarri").
In the movie, Dee clashes with the record producer and younger singer Caesare, who he feels threatens his career. Eventually, Dee and Caesare quit the label, but their record careers collapse just as the British Invasion begins. The real Fabian threatened a lawsuit, despite the filmmakers' insistence that the film presented only fictional characters (though Marcucci was a paid consultant). Avalon denied most of the movie's events.
Frankie Avalon married Kathryn Diebel on January 19, 1963. She was a former beauty pageant winner, and Avalon met her while playing cards at a friend's house. He told his friend that Kay was the girl he was going to marry. His agent warned Avalon that marriage would spoil his teen idol mystique. Still together, they have eight children – Frankie Jr., Tony, Dina, Laura, Joseph, Nicolas, Kathryn and Carla. They have 10 grandchildren. Frankie Jr. is a drummer and Tony, the second oldest son, plays guitar and taught at the Rock Nation School. Both sons play on tour with their father.
In 1987, Frankie Avalon and Annette Funicello returned to movies with Back to the Beach. In 1989 they also appeared as themselves in cameo roles out jogging the streets in Troop Beverly Hills. Not long afterwards, Funicello was diagnosed with multiple sclerosis and retired.
Afterwards, Avalon turned to marketing and created Frankie Avalon Products, a line of health and cosmetic aids. Avalon promotes his products on the Home Shopping Network with host Bob Circosta.
He made a cameo appearance as himself with Robert De Niro in the 1995 film, Casino.
In recent years, Avalon has starred in stage productions of Grease in the role of Teen Angel and Tony n' Tina's Wedding as a caricature of himself. Additionally, in 2007, he performed "Beauty School Dropout" with the four remaining female contenders (Kathleen Monteleone, Allie Schulz, Ashley Spencer, and winner Laura Osnes) for the role of Sandy on the NBC television reality show Grease: You're the One that I Want!
On April 8, 2009, he performed on American Idol.